Thursday, April 27th, 2017
In September 2015, Joseph Bermudez and the Committee for Human Rights in North Korea reported that the "Revolutionizing Zone" of Yodok Prison Camp (Camp 15) had been torn down as of October 2014.
The "Revolutioninzing Zone" was for prisoners judged to be worthy of re-education through labor, and thus eligible for release. It is because there were prisoners who were released, and who later defected, that we know so much about the camp.
Based on new Google Earth imagery, it appears that additional housing inside the camp security perimeter has also been torn down sometime between June 2, 2016 and February 19, 2017.
Here is an overview of the areas where housing has been razed:
First let's look at the housing in the "Total Control Zone" (39.699346°, 126.849473°):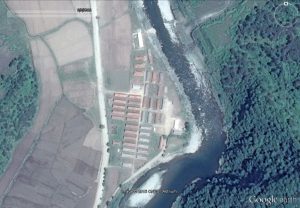 Google Earth: Image date 2016-6-2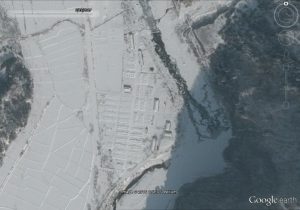 Google Earth: Image date 2017-2-19
In the above images, we can see that 38 housing units have been razed, and only seven buildings remain standing. I presume that the remaining buildings still serve an economic or administrative function.
Here is a second site where housing was razed between 2016-6-2 and 2017-2-19 ( 39.686860°, 126.844236°):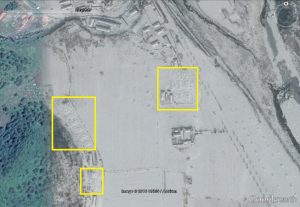 Here is a third site where housing was razed between 2016-6-2 and 2017-2-19 ( 39.704151°, 126.872365°):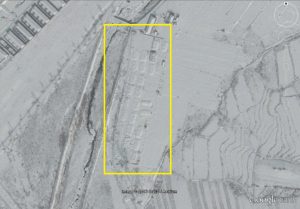 What does this mean? Using this Google Earth imagery alone, it is still hard to say exactly what is happening in the camp. The new imagery only covers the eastern-half of the camp, so there may be changes on the western-half of the camp (such as the construction of new housing) that may offset the housing losses we have observed here.
Is this good news for the prisoners? I cannot say. If the housing was torn down, and new housing was not built to replace it, it is possible prisoners were executed or transferred into pre-existing housing, leading to cramped, less-sanitary conditions. Some prisoners may have been released, but they could just as easily have been transferred to the new prison camp that was opened up on the site of the closed Camp 18.
Is the camp being closed? This rumor has been floating around for several years. The theory that North Korea desires to close the camp at some date in the future is consistent with the observations we have seen–in that a process of gradual reduction in prisoners and prisoner housing is taking place over time. However, we still do not know if new housing has been built on areas that are not covered by recent satellite imagery, and we do not know if the camp's closure will lead to an outcome that the prisoners would find welfare-enhancing (Are they being executed, transferred, or released?). As far as I can tell, the administrative portion of the camp, near the southern entrance (and the security perimeter) have seen no substantive changes over this same period.
As always, we need more imagery and more testimony.
This has been reported in Radio Free Asia.