According to a press release put out by PUST, Professor Aaron Ciechanover (Chemistry 2004), Professor Finn Kydland (Economics, 2004), and Dr. Sir Richard Robert (Medicine, 1993) visited the campus in Pyongyang.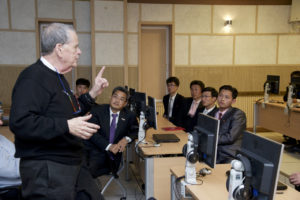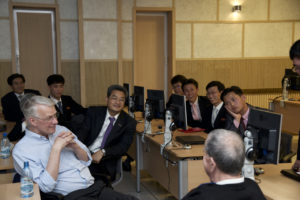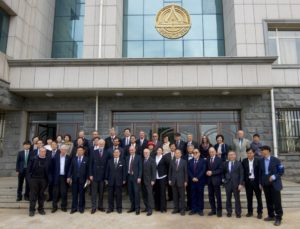 You can read the press release for additional information.
While in Pyongyang, the laureates made some [misguided] comments on US sanctions. According to Deutcsh Welle:
Nobel medicine prize winner Richard Roberts, Nobel economics prize winner Finn Kydland and Nobel chemistry prize winner Aaron Ciechanover have described how United Nations sanctions and a lack of internet access are hampering North Korean scientists.

Speaking to reporters following their visit to Pyongyang, the three laureates from Norway, Britain and Israel called for a rollback of many of the international restrictions that have been placed on the Communist state.

"You don't pressurize via making people sicker," said Ciechanover: "That's not the right way to go."

Roberts described how North Korean academic institutions suffered from a lack of modern scientific equipment. He said restrictions on internet use prevented most scientists from collaborating with colleagues in other countries, or accessing the latest scientific literature.

"So this embargo is really hurting the scientists in some major ways, and I think that's a great shame," Roberts added.

He said there was a strong desire for more international exchanges. During the trip, at least two North Korean students were invited to the West.

The Western scientists visited hospitals, universities and research institutes in Pyongyang and met with students and academics. They described clean and modern facilities – a stark contrast to other accounts, which describe the country as brutally impoverished.

The trip, which has been described as an exercise in "silent diplomacy," was planned more than two years ago with help from the International Peace Foundation (IPF). In turn the Vienna-based organization received an unsolicited email from the Korean National Peace Committee.
Notice that Kydland, the economist, is not quoted in reference to the sanctions. UN Sanctions do not impede economic or social progress so much as North Korea's actual economic, trade, and investment policies. North Korea has only itself to blame for the state of its economy. Finally, there is no UN embargo on the DPRK, only targeted sanctions on entities that all members of the UNSC agree are involved in the country's weapons programs. The US, but not UN, has imposed an embargo of "dual use goods" going to the DPRK, but this is aimed at the country's military, and applies to countries other than the DPRK.
The doctors also demonstrated an ignorance of socialist health economics when they visited the Okryo Children's Hospital. According to the New York Times:
But the laureates suggested Saturday that the United Nations sanctions imposed on the North because of its nuclear program should be eased. At the Okryu Children's Hospital in Pyongyang, a showcase medical center that Kim Jong-un visited during its construction in 2013, Mr. Ciechanover said that there were 300 beds and a capacity for 300 outpatients, but that doctors administered only about 60 tests a day, a low figure that he attributed to the sanctions. Doctors faced shortages of medicine and took the view that "you give only what you have to," he said.

The United Nations sanctions do not apply to medicine, but they restrict the North's access to foreign currency, and the government is known to channel its limited resources toward the military.
Also, some BBC reporters covering the PUST visit were expelled.