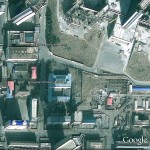 Pictured Above (Google Earth): Pyongyang Information Center and Annex
* AKA Pyongyang Informatics Center
Choi Sung, Professor of computer science at Namseoul University, writes in the IT Times:
I have been writing about North Korea's IT industry since the start of this year. In this installment, I would like to introduce North Korea's major information and communications institution. If the Choson Computer Centre (KCC) is called the centerpiece of North Korea's IT R&D, Pyongyang Information Centre (PIC) is the mecca of their software development. The PIC, founded on July 15, 1986, was jointly funded by the United Nations Development Programme (UNDP) and Jochongnyeon (the pro-Pyongyang federation of Korean residents in Japan). It is situated in Kyong-Heung dong near the Botong River in Pyongyang.

The PIC was created as the Pyongyang Program Development Company and changed its name to Pyongyang Electronic Calculator Operator in October of 1988 and then again to Pyongyang Information Centre (PIC) in July of 1991. As of now, the best and the brightest of North Korea's IT talent is developing various kinds of programs and devices at the PIC: nearly 300 IT professionals, who graduated from the North's most prestigious universities such as Kim Il-sung University, Kim Chaek University of Technology and Pyongyang University of Science and Technology (PUST), are on the payroll of the PIC.

On the overseas front, the PIC has its branches in China, Japan and Singapore, where PIC IT experts are working on software development, and has teamed up with foreign companies to jointly develop software programs and expedite technology transfers. The PIC, North Korea's major software developer, has been at the vanguard of these following areas: language information processing, machinery translation, document editing, global IMEs (Input Message Editor), computer-aided design (CAD), networks, database systems, fonts, multimedia, dynamic images, etc. For instance, the PIC's database development taskforce consists of about 40 IT experts, who are all working on the development of information management systems for production lines, companies and other institutions. The PIC's publishing group has been engaged in various R&D projects from the development of Chang-Deok, a PC word processor, to DTP (desk top publishing) systems for Mac computers. Last but not least, the PIC's application software group is keen on CAD, virtual reality and the development of project management devices. The PIC has been developing a plethora of software products: embedded software, CAD, image processing, Korean-language information processing and systems, network management systems, multimedia dynamic images, etc. The PIC's 3D CAD has been widely employed by North Korean and foreign architectural design companies and more sophisticated versions of it are coming out. What's more, the PIC is ramping up its joint R&D efforts with overseas IT developers with a focus on the development of diverse image processing programs. Korean-language information processing and systems are about developing the technologies for character recognition, voice recognition, natural language processing and primary retrieval while the development of network management systems includes fire walls, security solutions, encryption, e-commerce, IC cards, instant messenger programs, mobile game programs, etc. They are also working on the development of multimedia and dynamic images: technologies for producing 3D materials, 2D cartoon production and the technology for adding accompaniments to images are being developed. The PIC's font development team has developed 300 Korean fonts and a myriad of calligraphic styles for imported mobile phones and dot fonts for PDAs.

The PIC has thus far scaled up its IT exchanges with overseas information and technology companies as well as R&D institutions. A case in point is the North-South joint venture, HANA Program Center, which is located in Dandong-si in Liaoning, China and was jointly invested in May of 2001 by the PIC and North-South HANA Biz, a subsidiary of South Korea's Dasan Network. Another showpiece of the PIC's effort for joint R&D is the software development for fonts and Chinese character recognition in collaboration with Soltworks (an e-publishing software developer). On top of that, the PIC's IT exchanges with overseas institutions have been on the rise.

As such, inter-Korean cooperation projects will serve as the driving force behind the PIC's IT exchanges with South Korea. To that end, non-military sanctions imposed on Pyongyang should be eased, such as the Wassenaar Arrangement (a multilateral export control regime (MECR) with 40 participating states) should be eased to move US – North Korea relations forward and the US's EAR (Export Administration Regulation) on the North should be scaled back. Above all, IT-initiated unification of the two Koreas should be preceded by pragmatic dialogues with the North and North Korea's efforts for reaching out to other nations. As of now, the North needs to draw up a future blueprint to embark on phased cooperation with the S. Korean government and companies in a bid to open its doors to the international community.
UPDATE from a reader who has spent some time there:
[T]hey are an interesting institution that not everyone has a chance to see from the inside. What was interesting is that they really work on software for foreign markets (i.e. mobile software for well known international cell network providers). In addition to that they have an impressive library of books on all topics of software development which was up-to-date at the time I visited.

In contrast to the other institutions they immediately showed commercial accomplishments instead of where the leaders have walked. Employees have access to a gym too. A place out of place in Pyongyang. What I found interesting in the article is that the mentioned developments match some of those the KCC presents in their building. The PIC made much more an impression of a service unit for foreign customers than for the country itself. However, they are training hardware specialists for the infrastructure there.
Read the full story here:
North Korea's IT Application Software Development Center – Pyongyang Information Centre (PIC)
IT Times
Choi Sung
12/6/2010