The most authoritative map of North Korea on Google Earth
North Korea Uncovered v.7
Download it here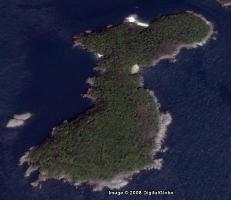 This map covers North Korea's agriculture, aviation, cultural locations, manufacturing facilities, railroad, energy infrastructure, politics, sports venues, military establishments, religious facilities, leisure destinations, and national parks. It is continually expanding and undergoing revisions. This is the sixth version.
Additions to the latest version of "North Korea Uncovered" include: A Korean War folder featuring overlays of US attacks on the Sui Ho Dam, Yalu Bridge, and Nakwon Munitians Plant (before/after), plus other locations such as the Hoeryong Revolutionary Site, Ponghwa Revolutionary Site, Taechon reactor (overlay), Pyongyang Railway Museum, Kwangmyong Salt Works, Woljong Temple, Sansong Revolutionary Site, Jongbansan Fort and park, Jangsan Cape, Yongbyon House of Culture, Chongsokjong, Lake Yonpung, Nortern Limit Line (NLL), Sinuiju Old Fort Walls, Pyongyang open air market, and confirmed Pyongyang Intranet nodes.
Disclaimer: I cannot vouch for the authenticity of many locations since I have not seen or been to them, but great efforts have been made to check for authenticity. These efforts include pouring over books, maps, conducting interviews, and keeping up with other peoples' discoveries. In many cases, I have posted sources, though not for all. This is a thorough compilation of lots of material, but I will leave it up to the reader to make up their own minds as to what they see. I cannot catch everything and I welcome contributions.