Although the Korea-watching world is focused on Tongchang-ri at the moment, I thought I would offer a mild distraction this Friday with some rarely-see-by-the-outside-world North Korean art. (A big thanks to a reader for these).
On display in the Mansudae Art Studio (the DPRK's premier art studio) at this very minute, "The girl with the cell-phone":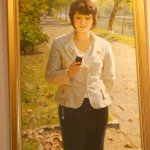 Click image for larger version
And below we have a painting from a book on the art exhibition on the 65th birthday of the Korean Worker's Party.  The painting is called "Sarangeui jib" (English title: "House of affection"):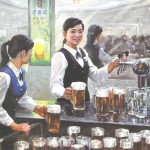 Click image for larger version
I bet the painter was a man.
Blogging has been light as I try to clear a big project from my plate. I will play catch up on Tonchang-ri, SPA, KWP , and Google Earth this weekend.
For an additional smile, KCNA has an article today titled, "North Korea Launches Satellite of Love".