You can download the full report here (PDF).
Below are some comments and data on North Korea from the report:
"After Afghanistan, North Korea has been the most persistently food insecure country in the region as grain output stagnated from 1995 until 2010. Only recently has some growth been exhibited. In 2014, 70 percent of the population is estimated to be food insecure; this is projected to decline to 40 percent in 2024. Since grain production growth is projected to remain low—around 1 percent per year—during that time, the improvement is driven primarily by low projected population growth of  0.4 percent per year."
And this table: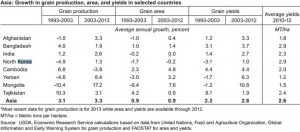 There is additional data in the report. Here is coverage in the Daily NK.