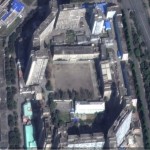 Pictured above (Google Earth): Suspected location of Kaeson Middle School (Google Maps)
According to the Philippine Department of Foreign Affairs:
Foreign Affairs Undersecretary for Policy Erlinda F. Basilio turned over to the Pyongyang Kaeson Middle School a Philippine donation of Philippine and ASEAN books, as well as a computer set consisting of one desktop computer, one laptop computer, and one printer last July 1.

Undersecretary Basilio was in Pyongyang with other Philippine officials to take part in scheduled Policy Consultations with the Foreign Ministry of the Democratic People's Republic of Korea (DPRK).

Established in August 1960 and located in Pyongyang's Moranbong District, Pyongyang Kaeson Middle School was designated the Philippines-DPRK Friendship School on 23 August 2010, as part of the 10th anniversary of the establishment of diplomatic relations between the two countries. The school is run by nine officials and 79 teachers, and has a student population of 1,454.

The donation was undertaken in cooperation with the Philippine Embassy in Beijing and the PH-Korea Friendship Society, based in Pyongyang.

The Philippines and the DPRK established diplomatic relations on 12 July 2000.
Additional information:
1. The DPRK routiney names schools and farms as "Country X-DPRK Friendship school/farm".   For example, the Songyo Secondary School is also the "DPRK-Mongolia Friendship School".  I have written about "friendship farms" before (here and here).
2. The PH [Philippine]-Korea Friendship Society is an "organization" in the "TaeMun" (대문) portfolio.  대문 is the North Korean abbreviation for 대외문화련락위원회, or in English, the Committee for Cultural Relations with Foreign Countries.  I say "organization" because in reality this friendship society, like all of the others, contains only one or two part-time members.  TaeMun takes its origins from an imported Soviet office named the All Union Society for Cultural Relations with Foreign Countries (Всесоюзное общество культурных связей с заграницей), known in the West by the acronym VOKS (from the Russian "BOKC").  Historically, its  job was to create sympathetic constituencies in foreign countries and provide the North Korean government with an alternate channel of foreign information, but since the Arduous March they have transformed their mission to focus more directly on resource acquisition.  There is some tension between TaeMun and the DPRK Foreign Ministry.  TaeMun has a web page here.
3. Here are some previous posts on the DPRK-Philippines relationship: here, here, here and here.