The CEO of Egypt's Orascom Telecom, Naguib Sawiris, has made his second visit to the DPRK. You can read about his first visit in January 2011 here.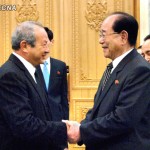 Pictured above (KCNA): Naguib Sawiris meets with Kim Yong-nam.
KCNA reported that Mr.Sawiris arrived on February 1 (video here):
Pyongyang, February 1 (KCNA) — Naguib Sawiris, executive chairman of the Orascom Telecom Media and Technology Holdings SAE, and his companion arrived here on Wednesday.
On February 2, KCNA reported that Mr. Sawiris met with Kim Yong-nam (video here):
Kim Yong Nam, president of the Presidium of the DPRK Supreme People's Assembly, met and had a friendly talk with Naguib Sawiris, executive chairman of the Orascom Telecom Media and Technology Holdings SAE of Egypt, and his companion who paid a courtesy call on him at the Mansudae Assembly Hall Thursday.
KCNA reported that Sawiris left on February 3, however, before leaving he praised Kim Jong-il and offered a gift to Kim Jong-un. Accoridng to KCNA:
Naguib Sawiris, executive chairman of the Orascom Telecom Media and Technology Holdings SAE of Egypt, was interviewed by KCNA before his departure from here.

Expressing profound reverence for leader Kim Jong Il, he said:

The Korean people lost a great leader. I also lost the most friendly man. General Kim Jong Il was a great father of the people.

I can never forget the day when I had the honor of being received by him.

While meeting him, I was totally attracted by his humanity.

He was the greatest man possessed of the noblest virtue.

His untimely passing was a great loss not only to the Korean people but to progressive humankind.

He devoted his all to his people with ardent love for the people.

While staying in the DPRK I was deeply moved to visit the Pyongyang Children's Foodstuff Factory honored with the leadership provided by Kim Jong Il.

He paid deep attention to the operation of the factory.

The tireless efforts made by him for the happiness of the people will be conveyed to posterity for all ages.

The Korean people are energetically pushing forward socialist construction under the sagacious leadership of supreme leader Kim Jong Un.

I sincerely rejoice over the achievements made by the Korean people.

I wish the Korean people greater progress.

I would like to make a positive contribution to boosting the exchange with the DPRK.
His gift to Kim Jong-un remains unknown for now:
The dear respected Kim Jong Un, supreme leader of the Workers' Party of Korea and the Korean people, received a gift from the executive chairman of the Orascom Telecom Media and Technology Holdings SAE of Egypt.

Chairman Naguib Sawiris handed it to an official concerned on Thursday.
While in the DPRK, Orascom holding announced that it had reached 1 million mobile phone subscribers in the DPRK. According to Bloomberg:
Orascom Telecom Media & Technology Holding SAE, an Egyptian mobile-phone operator headed by billionaire Naguib Sawiris, said its subscribers in North Korea exceeded 1 million.

The Cairo-based company made the annoucement in a regulatory filing today.
The Economist offers some business statistics:
Koryolink earns a gross margin of 80%, making North Korea by far the most profitable market in which Orascom operates. The company has worked hard to court the regime, its chairman travelling to Pyongyang last year to meet the late supreme leader, Kim Jong Il.

North Korean mobile-phone users spend an average of $13.90 a month on calls and text messages, and they tend to pay in hard currency. According to a foreign diplomat, many customers turn up at Koryolink shops with bundles of euro notes. There are even incentives for paying in euros, such as free off-peak calls. This provides foreign currency for a government that craves it.

Mobile-phone customers obtain the hard currency from the informal private trading on which many North Koreans depend. Such business is forbidden, but the government has failed to feed its people, forcing it to turn a blind eye to some capitalist practices. Many insiders benefit: Pyongyang's "golden couples" consist of a government-official husband and an entrepreneur wife.

Mobile usage now appears to be spreading beyond Pyongyang. The gadgets are a common sight in other cities such as Nampo, not far from the capital, and increasingly are owned by non-officials. As yet, though, only a sixth of the country has a mobile signal.
Martyn Williams has specifics on the corporate structure of the service and service statistics:
The company is operated by Cheo Technology, which is a joint venture between Egypt's Orascom Telecom Media And Technology Holding (OTMT) and North Korea's Ministry of Posts and Telecommunications. OTMT holds a 75 percent stake and the North Korean government owns the remaining 25 percent.

Koryolink's service has popularized cell phones and visitors to Pyongyang say they are now a common site on the city streets. The Koryolink network covers the capital city in addition to 14 major cities, 86 smaller cities, and 22 highways. That equals 14 percent of the landmass but about 94 percent of the population, according to Orascom.