In this Google Earth image, we can see a new Kim Jong-un/executive runway being installed in Unsan County (은산군) Between the Sunchon Cement Factory and a large industrial construction site just south of the runway.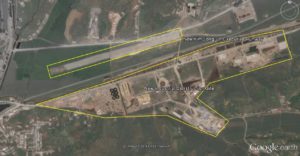 The new runway is approximately 870 meters and is intended for small Cessna-style aircraft–similar to other runways constructed throughout the country intended for the leader. It appears the runway construction is being carried out in coordination with the new industrial construction site taking place just to the south of it.
The new large construction site itself is over 1.5km in length, but its purpose remains a mystery. Like many projects, it has not been mentioned in the official media. If any readers have any ideas what any of the building foundation imprints could be for, please let me know.
I have already talked about this with Radio Free Asia.