DPRK Digital Atlas (2012)
I worked with 38 North to Publish the DPRK Digital Atlas (2012):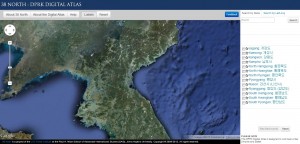 Here is some information on the project:
The DPRK Digital Atlas is a resource developed by 38 North, working with Curtis Melvin (North Korean Economy Watch) and a talented team of programmers. It is part of 38 North's on-going effort to provide various information and analysis resources to help policymakers, researchers, and the general public better understand the DPRK. The data for this project has been culled and vetted through a number of sources to provide users with the most accurate geographic information available at this time.

The atlas was created in Google Earth and then converted to a browser-based application to allow users to search the map either by name (English and Korean), coordinates, or simply by browsing through the drop down menus. Because it is built on the Google Earth platform, users can see the latest publicly available satellite imagery of any specific point or area as they are searching.

In this first iteration of the atlas, users can browse through the provinces, cities, counties, districts, towns and villages throughout the DPRK. Although it is the most comprehensive satellite mapping project of the DPRK, this remains an on-going GIS project, and future iterations will provide even greater detail and a wider variety of localities and features.

We are in debt to the following people and organizations for their contribution of key resources for the completion of this project: Jonathan Ung, Tam Nguyen, "Hank," Stephen Mercado, Michael Rank, PSCORE, and the George Washington University Gelman Library's Asia Reading Room.
The web page is fairly intuitive, but there is a separate page containing instructions. Data sources are listed on the atlas "About" page.