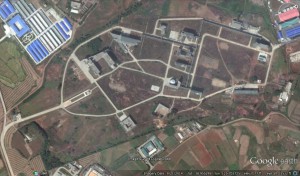 Pictured Above (Google Earth): PUST
On Wednesday 19th November, the Pyongyang University of Science and Technology (PUST) held its second graduation ceremony of 2014, at the campus in the south side of Pyongyang.
100 undergraduate students in science and technology received Bachelor degrees from the co-Presidents of PUST, in the presence of foreigners and diplomats including ambassadors from Europe, Asia and Latin America and UN representatives.
These new graduates are the first year-group of students, who came to PUST in October 2010, when the university began classes in electrical and electronic engineering, computer science; agriculture and life sciences; and finance and management. Some will remain at PUST as graduate students and most others will go to various DPRK state universities for further study. PUST is also active in sending graduate students for both short-term and long-term study abroad, at European and Asian universities, under various partnerships and scholarship schemes.
For more details please see the Press Release (PDF).