UPDATE 6 (2012-9-1): Over at Choson Exchange, Andray Abrahamian updates us on the current state of Rason's new highway to China (completed: see here and here for more), Russian railway connection (completed), port construction (on hold), energy supply, tourism and investment.
Some additional areas of construction are available in this Yonhap report.
UPDATE 5 (2012-8-28): Thanks to a valued reader, I have posted a marketing flyer for the Rason International Commerce and Trade Center (AKA Rason International Business Trade Center) which is currently under construction in Rajin City (though it is too new to appear on satellite imagery). According to the front page of the flyer, caucasians will live in the complex, enjoying contemporary housing furnished by Pottery Barn and Oneida.
Below I have posted the marketing flyer featuring Pottery Barn on the cover. If a reader out there can translate Chinese, I would appreciate some assistance:
I hope that one day all North Koreans have the opportunity and the means to shop at Pottery Barn, but I am fairly confident that the company has no plans to open a branch in the DPRK for the foreseeable future.
On page 5 of the flyer, an artist impression is given of what the trade center will look like.  It is slightly different from the model of the complex which appeared in KCNA yesterday and which was also on display at the second annual Rason International Trade Fair: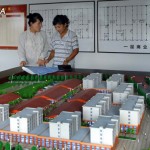 Here is what KCNA had to say about the complex:
Int′l Commerce and Trade Center to Be Built in Rason City

Pyongyang, August 28 (KCNA) — The development of the Rason Economic and Trade Zone is in full in the Democratic People's Republic of Korea.

Among the development projects is the Rason International Commerce and Trade Center.

The construction, jointly funded by the Rason Paekho Trading Corporation of the DPRK and a real estate development company in Qin Huangdao, China, began in April this year.

It covers an area of some 40 000 square meters, with a total floor space of 88 000 square meters.

The first-stage construction will be finished in mid-October this year to cover seven buildings for storehouses and wholesale market.

The second stage, to be completed in October next year, will include nine buildings for shops, restaurants and hotel.

The construction is now under way as scheduled.

Song Ryang Dok, manager of the Rason Paekho Trading Corporation, told KCNA that the center is one of the big development projects in the zone.
Additional Information:
1. Here is Yonahp coverage of the story.
2. I hope Qin Huangdao has better luck than Xiyang.
3.Choson Exchange posted pictures of the Rason trade fair including  a large poster of the Pottery Barn image!
4. Yonhap also reports (via the Choson Sinbo) that housing in this facility would be sold to foreigners:
"There were cases in which North Korea allowed foreigners to invest in factories and commerce centers, but no official case of home sales has been reported," said Im Eul-chul, a research professor at Far Eastern Studies at Kyungnam University. "It can be seen as (the North) making another step forward in its efforts to attract foreign investment."
UPDATE 5 (2012-8-22): Here is a video of the investment forum that was held at the zone. It features another architectural vision for the city which differs from the previously released video:
 UPDATE 4 (2012-8-21): What's on offer at the Rason Trade fair? According to the Associated Press:
Some 110 companies from 11 countries have booths at the four-day event, Rason's second international trade fair, organizers told The Associated Press. Chinese companies dominate the exhibition hall.

While the big goods are parked outside, exhibitors inside are showing off everything from toys to medicine, clothes to household appliances made in countries as far as the Czech Republic and France and as close as factories in Rason. One American is selling T-shirts not far from a North Korean clothing company.

"All these products you see are made or manufactured by our company. And they now are exported to more than 13 countries around the world," said Pak Kyong Ok, a Rason Hyesong official. "Our products are popular."

Bob Granger, a British entrepreneur, had something else in mind: a coffee shop in Rason.

"We would like to open in this area, not in the capital, Pyongyang," said Granger, managing partner of the Green Apple cafe in Tumen, China, as North Koreans sampled his coffee. "We'd like to be bit out in the country meeting the people."
UPDATE 3 (2012-8-20): Here is the official KCNA video of the opening of the Rason Trade Fair:
UPDATE 2 (2012-8-20): The Exhibition has opened.  According to KCNA:
Second Rason International Trade Fair Opens

Pyongyang, August 20 (KCNA) — The Second Rason International Trade Fair opened with due ceremony in Rason on Monday.

The participants laid a floral basket before portraits of smiling President Kim Il Sung and leader Kim Jong Il in the venue and paid tribute to them.

Present there were Jo Jong Ho, chairman of the Rason City People's Committee who is chairman of the organizing committee of the fair, officials concerned, officials in the city of Rason, scientists and technicians, representatives and exhibitors of different countries and regions, foreigners active in the Rason economic and trade zone and the consuls general of China and Russia in Chongjin.

An opening address and a congratulatory speech were made there.

The speakers referred to the fact that the fair would contribute to bringing about economic development and common prosperity of different countries of the world.

They expressed belief that the participants would conduct positive and wide-ranging dialogue and multi-faceted commercial and trade activities.

At the end of the ceremony the participants looked round electrical and electronic products, vehicles, light industry goods, medicaments and other commodities presented by more than 110 units of different countries and regions including the DPRK, China, Russia, Sweden, the Czech Republic and Taipei of China.

A reception was given on the same day in connection with the inauguration of the fair.
Here is coverage of the opening of the trade fair in Xinhua.
UPDATE 1 (2012-8-9): The Second Rason International Product Exhibition to be held this month (Institute for Far Eastern Studies):
The second Rajin-Sonbong (Rason) International Product Exhibition is scheduled to be held from August 20 to 23, 2012.

The Korean Central News Agency (KCNA) announced on Aug. 2 that participants from North Korea, China, Russia, France, Switzerland, Australia, Czech Republic, Taiwan and other nations will be attending this exhibition, with electronic, machineries, light industry, and medical products on display.

The KCNA also reported the exhibition will contribute toward trade, economic, and science and technological development and enhance cooperation and exchange with neighboring countries. During this period, North Korea is also planning to hold briefing sessions for investments and visits to Rason Special Economic Zone (SEZ) for companies.

The first international product exhibition at Rason was held last year in August. The Chinese and Russian consul generals of Chongjin attended the opening ceremony with products from over 110 companies from North Korea, China, Russia, Australia, Italy, the United States, and Taiwan.

North Korea continues to expand the joint development of Rason with China, although it is also attracting investments from other countries such as Russia, Australia, and Italy.

In addition to Rason SEZ, North Korea is also promoting tourism. International routes to Pyongyang have increased. From Shanghai, regular flights are scheduled for Tuesdays and Fridays. Since April, chartered flights have been running from Harbin, and since July, from Xian. Other international travelers are visiting Pyongyang via Beijing, Shenyang, and Kuala Lumpur.

The KCNA reported that tourists are visiting Pyongyang and Kaesong on four-to-five day tour packages, touring many historical and cultural attractions including Myohyang and Mt. Kumgang.

With the opening of the Arirang Mass Games from August 1, more foreign tourists are expected to visit.
ORIGINAL POST (2012-5-16): The Hanns Seidel Foundation has made available the marketing and information flyer for the second Rason International Trade Exhibition (RITE) which will take place from August 20 – 23, 2012.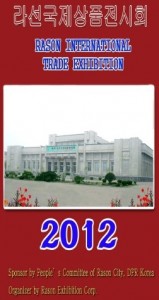 The marketing and information flyer is in a three-part PDF which you can download here: Part 1, Part 2, Part 3.
Additional Information:
1. Previous posts on the Rason International Trade Exhibition can be found here.
2. Previous posts on the Pyongyang International Trade Exhibition can be found here.