Satellite imagery of the east coast of Korea dated 2014-7-4 has recently been uploaded to Google Earth. Among the more noticeable items is that Kim Jong-un had a new runway built at his family compound in Wonsan right next to his private train station.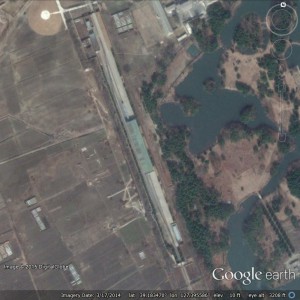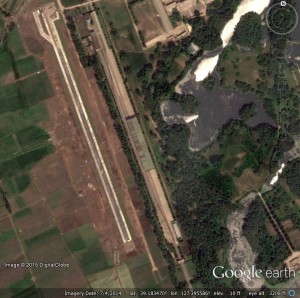 In the top picture you can see a small helipad (where Dennis Rodman landed) which was torn down to make way for a runway,  approximately 560m in length. The new runway should be able to accommodate small aircraft and helicopters. Although Kim Jong-il favored trains, the North Korean media has shown Kim Jong-un traveling by car, boat (military and yacht), and plane (even sort of flying one).
Last summer Kim's guidance tour schedule seemed to suggest he was spending much of the time in Wonsan. With a runway like this, he will presumably be able to get around the country more easily from his "summer home". Maybe in future satellite imagery we will get a view of his personal craft on the runway!
This was picked up by Radio Free Asia.