UPDATE 2 (2012-4-12): North Korea and China attracting investors for Rajin Port development (IFES):
China is currently actively recruiting investors to build additional wharfs in Rajin Port.

China's Dandong City Industrial and Information Association (丹东市信息协会) announced that it is seeking investments for the construction of tanker wharf under 10,000 ton and affiliated facilities. This organization has received 45 year usage rights from the Rason City People's Committee and stated that it needed 330 million CNY (52 million USD) to cover the construction cost. According to the association, the investment is attractive because of its geographic location, reduced transit time and costs, and tax-free benefits, for which a special permit was obtained from the North Korean authorities granting trade goods coming from Jilin Province at the Hunchun Port to be allowed entry tax-free. In addition, cargo will be permitted to be sent from Rajin Port to other ports in China.

Meanwhile, North Korea is also planning to build a new port in the Rajin-Sonbong area with a state-of-the-art container distribution capacity. According to the "Rajin New Port Development Plan," Rajin port development will undergo major transformation as an international hub port, similar to Busan Harbor, unlike the previous small-scale renovations of Piers 1, 2, and 3. This new port is expected to be built across from the current Rajin Port.

Rajin Port development was initially considered as a remodeling project to update the existing wharfs. In 2003, China began to implement construction of Piers 1, 2, and 3. However, the piers began to deteriorate and for the lack of railway and road infrastructure in the area, it delayed the transportation and distribution and could not perform its full function. As a solution, in 2008, North Korea transferred the usage right of Pier 1 to China and Pier 3 to Russia. At that time, Pier 1 was developed to primarily transport chemical fertilizers but it was recently updated as a transportation dock for coal. Russia, in addition to the port, also carried out a modernization project of the Rajin-Hassan railway system to improve the transport of containers.

The new port development plan as suggested by North Korea indicates Jian Group of China as the responsible party for developing the new port into a container port. However, considering that North Korea's industry does not call for container ports, it is more likely that North Korea is expanding the port to make it a hub port to ship cargo to China, Russia, and Europe. Considering Rajin Port's geographical advantage, it is likely that North Korea is striving to make it into an international hub port that connects the Pacific with Northeast Asia.

China's recent advertisement of investment is also considered to be linked with the new port development in Rajin Port.
UPDATE 1 (2012-3-1): Accoridng to Stratfor, the Chinese have denied they plan to make this investment.
The Chinese Foreign Ministry denied allegations made in a Feb. 16 South Korean media report regarding its agreement with North Korea to jointly develop the Rajin-Sonbong Special Economic Zone (SEZ), a port area in northeast North Korea commonly referred to as the Rason Special Economic Zone.

According to the Yonhap news agency, Beijing agreed in late 2011 to invest about 19 billion yuan ($3 billion) into Rason, for which it would receive the lease of three piers for 50 years. Under the agreement, Beijing would also build an airfield, a thermal power plant and a 55-kilometer (34-mile) railway track connecting Rason to Tumen, China. The Chinese Foreign Ministry claimed that the specific details of the report are untrue and that China and North Korea had agreed only in principle to develop the zone.

China has long exerted its economic influence in North Korea and has an interest in the strategically important Rason Special Economic Zone. Chinese involvement in Rason dates back to the 1990s, though Beijing increased its involvement considerably in 2005 when it secured the rights to one of the port's piers. Beijing has been particularly involved over the past few years. While the details of the deal remain unknown, it is clear that Beijing has arranged to help Pyongyang develop Rason, possibly by connecting the remote port to northwest China. Such a development would revitalize the zone — to the benefit of both countries.
ORIGINAL POST (2012-2-15): China has committed to infrastructure projects in Rason. According to Yonhap:
China has secured the rights to build three new piers in a special economic zone in North Korea's northeast and use them for 50 years, sources said Wednesday.

China will also build an airfield and a thermal power plant in the special economic zone known as Rason, as well as a 55-kilometer railway track between China's northeastern city of Tumen and Rason.

North Korea and China reached an agreement late last year to build infrastructure in Rason with Chinese investment of about US$3 billion, according to the sources in Seoul and Beijing.
The Daily NK offers some more data:
China has agreed to dig out dock 4 at Rasun to make it possible for 70,000 ton vessels to dock and to construct a runway long enough to accommodate passenger and cargo aircraft within the SEZ; the railroad is due to be complete by 2020, while the development of dock 5 and 6 will follow that of dock 4, Yonhap sources claim.

This agreement was reportedly signed quietly by North Korea's Joint Ventures Committee and the Chinese government shortly before Kim Jong Il's death.
The North Koreans have sought the construction of an airport and expansion of the port  for some time.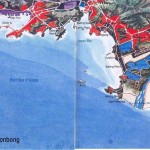 KITC published the image above in 1995 (Source here).  If you look carefully on the right side of the picture you will see the site of a proposed airport.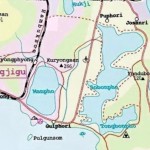 Above is a more recent map of Rason published by the DPRK. In the middle of the above map you can see a small airplane which represents the desired location of a future airfield. It is in the same location as shown on the KITC map.
Here is the approximate location on Google Earth (42.397884°, 130.592084°):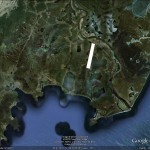 If you look at the left side of the KITC photo you can also see that there are many piers, however today there are only three.  I suspect that the new piers will be constructed south of the current piers and will look something like this: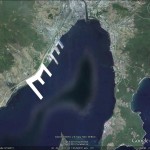 The railway and power plant projects are intereting as well.  There is already a thermal power plant in Sonbong, so I expect that the Chinese are simply renovating it so that it generates more power or is simply more reliable (Google Earth:  42.327275°, 130.382585°):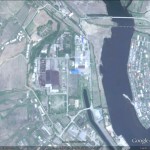 At a presentation at the Korea Economic Institute in Washington, DC, Andray Abrahamian reported that increased electricity supplies for the Rason Zone could come from China.
As for the Tumen (China) – Rason railway line…this already exists as well.  The DPRK's Hambuk Line (함북선) runs from Chongjin to Namyang (border with Tumen) to Rason: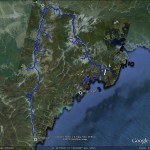 The Tumen to Rason leg of this railway line, however, is approximately 156km (according to Google Earth) and likely runs pretty slowly.  The proposed new Chinese-built Tumen-Rason line is intended to be just 1/3 the distance!
Additional Information:
1. The Russians built a railway line from their border to the Rajin Port. Learn more here.
2. The Chinese and Russians have already rented two of Rajin's three ports.
Read the full stories here:
China secures right to use 3 piers to be built on N. Korean port for 50 years
Yonhap
2012-2-15
China Reportedly Grabs 3 Docks and More
Daily NK
2012-2-15