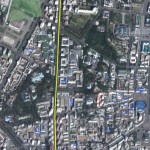 Pictured above (Google Earth): Changwang street runs north from the Pyongyang Central Train Station to the Potonggang Gate–straight through the Workers' Party Leadership Compound (AKA the "Forbidden City")
According to the Daily NK:
As the use of multimedia devices continues to spread among wealthy kids from the Pyongyang elite keen to ride the 'Korean Wave' of South Korean cultural influences, it appears that ownership of an Apple i-Pad tablet computer has now also become one symbol of 'cool.'

The most common and popular multimedia devices used by younger generations in Pyongyang are still MP4 players and DVD playback devices with USB compatibility, of course; however, on Changgwang St. in the very heart of Pyongyang a few people have recently been witnessed wielding the popular Apple machines.

"Notebook computers are pretty common in Pyongyang," one Chinese businessman who visits Pyongyang 2 to 3 times a year told Daily NK on the 6th, "But i-Pads are now a symbol of wealth; someone in Pyongyang requested one from me for their child."

"I also witnessed a person using an i-Pad on Changgwang Street and PSM officers did not stop this, while the user did not seem to care about getting in trouble," the source went on, adding, "There are many foreigners in that area so they are probably trying to adopt a sophisticated image."

One Orascom official also previously reported witnessing the use of an i-Pad in Pyongyang. However, it is not possible to use the product's 3G cellular facility in the city as yet.

In an interview with Radio Free Asia (RFA) on the 8th, an official with the Egyptian company stated, "We are planning to develop a SIM card so that I-pads can be used in North Korea by the end of this year," explaining "There is a 3G network for cell phones in North Korea, so as long as you insert a SIM card you'll be able to use it."

Naturally, the internet is not available to domestic users of phones in North Korea either, while the i-Pad is renowned worldwide for its lack of USB ports, too, much less a DVD drive, so while the elite may be obtaining the devices one way or another, only those lucky enough to live abroad can really use them.
iPods have been popular in the DPRK for some time. More than once have tourists been propositioned to give up their portable music devices.
Read the full story here:
Even i-Pads Are in Pyongyang Now
Daily NK
Park Jun Hyeong
2011-11-07