UPDATE: Excellent information in the comments. 
ORIGNAL POST: Last week many press reports claimed that the DPRK's newly launched 3-G mobile phone service includes limited Internet access.  To take one example from the Associated Press:
North Korea has begun limited Internet service for mobile phone users, a government Web site reported, months after launching an advanced network in cooperation with an Egyptian telecoms company.

The service allows North Koreans to access a Web site through their phones to see news reports carried by the country's official Korean Central News Agency as well as news about the capital Pyongyang, according to the government-run Uriminzokkiri Web site.

Uriminzokkiri did not give any further details in its report Thursday on whether the service is restricted to the capital Pyongyang or is available elsewhere.

The number of mobile phone users had reached 20,000 by the end of March, including some foreigners, Tokyo-based Choson Sinbo newspaper, considered a mouthpiece for the North Korean regime, said earlier this month.
I have not yet been able to locate the story on Uriminzokkiri, but according to a follow up story in the AP:
The Korean-language Web site as seen on an ordinary computer screen also allows viewers to listen to North Korean music, get information about books, art and investment opportunities in North Korea and even engage in Internet chatting. It was unclear, however, if those services were available in the mobile version.
So the "Web site" is actually a portal, and I am 99.99% sure that  it is not connected to the Internet at all but to either the DPRK's intranet network, called "Kwangmyong," or to a newly built self-contained computer network.  As an aside, however, many North Koreans (in Pyongyang anyhow) are aware of the internet. 
Strangely, here is an advertisement of sorts about the DPRK's mobile network which several readers have sent to me.  I believe this was produced by the Chongryun, but this is merely a guess: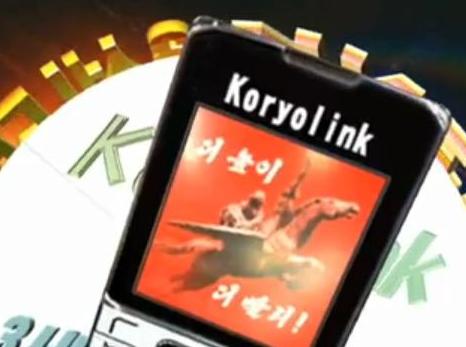 Click on image for You Tube video
Here is a little history on the DPRK's experiences with mobile networks (via teleography):
Mobile phones are tightly controlled in North Korea and were banned until November 2002. Two months later incumbent fixed line telco Northeast Asia Telephone and Telecommunications (NEAT&T) launched GSM-900 services under the banner SUN NET. However, cellular devices were once again banned following an explosion on a train in June 2004, which was thought to have been triggered remotely by a wireless handset. In January 2008 Egypt-based telecoms operator Orascom Telecom announced to the surprise of most that CHEO Technology, a joint venture between itself (75%) and Korea Post and Telecoms Corp (25%), had been awarded a licence to operate 3G wireless services by the government. Under the terms of its licence, CHEO is permitted to provide mobile telephony services for 25 years, the first four of which on an exclusive basis. The company launched the country's first 3G network in the capital in December 2008 under the name Koryolink. By April 2009 CHEO had reportedly signed up 20,000 subscribers and its 3G network had been expanded to include the main road running up to the northern city of Hyangsan, with national coverage expected by 2012.
Read more here:
NKorea opens limited Internet cell phone service
Associated Press (via Forbes)
5/21/2009
NKorea allows limited Internet cell phone service
Associated Press (via Yahoo)
Kwang tae Kim
5/22/2009