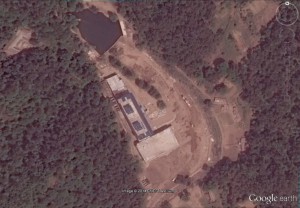 Pictured Above (Google Earth): The new Tongrim Waterfall hotel
UPDATE 2 (2014-11-11): Koryo Tours announces that westerners will be able to visit Tongrim as well:
For anyone looking for an exciting opportunity to travel in one of the least-seen parts of the least-seen nation in the world Koryo Tours is proud to offer the option to visit the city of Sinuiju, and take a drive down to the city of Dongrim – newly open to western tourists after years of our hard work pushing for access.

We have two options available for tours to this area; a day trip from the Chinese border city of Dandong, or an overnight extension to one of our regular DPRK trips as an extension to any tour that leaves the country by train – both on group and independent tours.

These areas were opened to western tourists due to the hard work of Koryo Tours' staff in negotiating with the local and national authorities in the DPRK for access to these areas – know that if you join one of these trips, or any of our tours, you're travelling with the company that made it all possible, we'd be glad to have you along with us!

You can now visit Sinuiju, Dongrim, and stay overnight either if you finish your tour in the DPRK by train travelling from Pyongyang up to Sinuiju on the Chinese border – this is a 24 hour extension that offers a great way to see some sites in North Pyongan province; a rarely seen part of North Korea.
UPDATE 1 (2014-10-16): DPRK opens Tongnim-jun to Chinese tourists. According to the Global Times:
The Democratic People's Republic of Korea (DPRK) opened its city of Tongnim-jun to Chinese tourists on Thursday, in the latest sign of the reclusive country developing its tourism sector.

Tongnim-jun is in Sinuiju, an area which borders northeast China's Liaoning Province.

Under an agreement signed by tourist agencies of the two countries, Chinese group tourists can visit Tongnim-jun for two days from Dandong City in Liaoning.

The Dandong branch of the China International Travel Service has built a four-star hotel in the area with an investment of 30 million yuan (4.88 million US dollars).

Chinese group tourists can visit a number of DPRK cities, including its capital Pyongyang, Rason, Namyang, Chongjin and Mount Kumgang, by bus or by train.

The two countries are considering opening self-drive tours for Chinese tourists from Dandong, according to You Zejun, head of the municipal tourism commission.

The DPRK is working to develop its burgeoning tourism sector. It has approved several new travel programs and simplified entry applications to woo Chinese tourists.

In April, a train service from Ji'an City of Jilin Province was launched to link with Pyongyang, Kaesong and Panmunjom in the DPRK, making it the second city after Dandong with such services.
ORIGINAL POST (2013-1-11): According to Sina English:
The Democratic People's Republic of Korea said it will open a village famous for a scenic waterfall in the northern part of the country to Chinese tourists from July.

The report by the China News Service said the tourist department of China's Dandong city government will begin a two-day travel program on the route linking the Chinese city of Dandong to the North's Donglim County, about 40 kilometers southeast of the border city of Sinuiju.

The news outlet said the Chinese travel department has been operating a one-day Dandong-Sinuiju travel route.
A four-star hotel is under construction as well as other amenities for travelers in the DPRK village in the North Pyongang Province, according to the report.

The village is most famous for its Donglim waterfall, a popular tourism location. The area near the waterfall is also well known for its scenic landscape.

The media report added that when the North opens the route in July, about 100 tourists will likely sign up for the tour program every day, whose two-day itinerary will cost about 1,000 Chinese yuan (US$160.9).

China's tourist industry estimated that about 10,000 Chinese people visited the North on the Dandong-Sinuiju tour program in 2012.
Read the full story here:
DPRK to open waterfall village to Chinese tourists
Sina English
2013-1-11