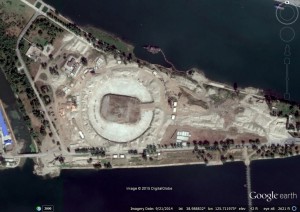 Pictured Above (Google Earth: 2014-9-21): Construction site of the Ssuk Islet Scientific and Technological Study Center
According to the Institute for Far Eastern Studies (IFES):
The Choson Sinbo, pro-North Korean newspaper in Japan, reported on January 10, 2015 that a "Science and Technology Hall" is under construction on the Ssuk Islet on Pyongyang's Taedong River. The hall is reported to serve as a "multi-functional technological service base which will conserve and maintain digitalized data of science and technological achievements made by mankind, and facilitate information sharing and exchanges through a network system."
The newspaper stated, "The Republic with the national strategy to achieve economic revitalization through science and technology is emphasizing the need for informatization of educational materials in order to foster professionals in science and technological sector." In also stressed, "In the Kim Jong Un Era, this project is under promotion to advance to the next level."
Last June, Kim Jong Un visited the Ssuk Islet to provide field guidance for the "Ssuk Islet development project." During the visit, Kim proclaimed, "The demand for scientific and technological knowledge sharing is increasing day by day," and added, "Our Party [Workers' Party of Korea] has decided to develop Science and Technology Hall in the Ssuk Islet to address the demands of the people." According to the newspaper, the islet, which is situated at the gateway to Pyongyang, will be equipped with indoor and outdoor exhibition space and will "transform the scenery of the Taedong River."
Last year, the faculty residence for the Kim Chaek University of Technology was completed (two, 46-story apartment buildings) on the riverside of the Taedong River. This high-rise, which looks afloat on the Taedong River, will be at the center of the currently-under-construction "Mirae [Future] Scientists Street." This street will house various residential and public service buildings.
In particular, the newspaper claimed, "The economic trials suffered from the end of the 20th century with the blockade and sanctions from our adversaries has impeded the advancement of the information sector. Hence, the informatization of educational resources is one of the fastest measures to ensure the best conditions and environment for education." It conveyed the Science and Technology Hall development in the Ssuk Islet will contribute to the efforts toward the "informatization of educational resources."
It further elaborated, "The most pragmatic approach to meet the demand for knowledge dissemination is not to distribute compulsory literatures, teaching materials, and experimental equipment for every field and units which will require tremendous effort in terms of funds, materials and time." Instead, the article stipulated that the more rational choice would be to "create a state-level system that can provide necessary information in digitalized data and share that information to the people."
This can be interpreted as one of North Korea's efforts to revitalize the economy through science and technology.