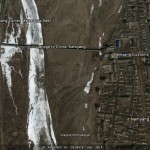 Pictured above: The Namyang (DPRK) – Tumen (PRC) border (Google Earth:  42.954725°, 129.850223°). A big thanks to Christopher Green for assistance.
Back in 2010, Asahi and KBS reported that a market had opened in Tumen (PRC) to facilitate trade with the DPRK. The report mentioned that Chinese traders were permitted to cross into Namyang (DPRK) to buy goods which could then be exported and sold in the Tumen market (tax free up to a specified level). It is unclear if North Koreans were permitted to travel to Tumen to trade in the market.  According to the report :
The market in Tumen, Jilin province, opened on Oct. 13. It appears to be the latest development in growing economic exchanges between Beijing and Pyongyang following a visit to China by North Korean leader Kim Jong Il in August and moves to secure a smooth transition of power to his third son, Kim Jong Un, the sources said.

…

The market, which has a total space of about 10,000 square meters, is located on the banks of the Tumenjiang (Tumengang in Korean) river, which serves as the common border between the two countries.

Currently, the market is open twice a week, but there are plans for it to become a daily feature in the near future, the sources said.

According to the sources, Chinese residents in Tumen, which is located inside the Yanbian Korean Autonomous Prefecture within Jilin province, can obtain travel permits to North Korea by presenting identification.

With entry permits in hand, the Chinese are able to cross the river to Namyang, where they are allowed to buy products at designated areas, provided they return to China the same day.

Purchases worth up to 8,000 yuan (about 96,000 yen, or $1180) are treated as duty-free and can be sold at the Tumen market.

The sources said about 150 people showed up at the market on Oct. 13, including merchants as well as ordinary citizens.
The Daily NK reports this month (June 2012) that now Chinese traders are able to enter the DPRK and sell goods to the North Koreans:
Chinese traders are operating with the permission of the North Korean authorities in the public market in Namyang, part of rural Onsung County in North Hamkyung Province.

The news has aroused considerable surprise, even arousing claims of a 'Kim Jong Eun-style opening'.

A North Hamkyung Province source explained the scene to Daily NK today, saying, "From the start of this month, Chinese traders have been coming through Tumen to trade with locals in Namyang market. They are staying from 9AM to 5PM."

Namyang has a small population and lies far from significant population centers. However, there is a customs house located in the immediate vicinity, making it a key contact point for cross-border trade.

According to the source, "Somewhere between 50 and 70 of them come in for the day, and take up around a third of the stall space." Namyang market used to have approximately 100 stalls, but it has apparently been expanded to accommodate the new arrivals.

The Chinese traders sell a range of items, including some that are formally forbidden such as grains, but also fruits, processed foods including instant noodles, clothing and shoes. Most also take the chance to trade the other way, buying natural products such as seaweed and seafood, wild herbs and mushrooms to sell in China.

The move is surprising because while ethnic Chinese citizens residing in North Korea have long played the role of wholesaler to the country's domestic markets thanks to the relative ease with which they can traverse the Sino-North Korean border, it is unprecedented for ordinary Chinese citizens to be allowed to trade directly in domestic North Korean markets.

Naturally, most North Koreans in the area welcome the new presence, because it both shortens supply chains and brings down prices, while also allowing them to order products directly from China and, with a slice of luck, receive them within 24 hours.

According to the source, "There are even people already coming up from Chongjin to trade fish with the Chinese! The security services are cracking down on cross-border activities, but the number of people is continuing to rise all the same."

However, existing North Korean traders do harbor unease at the new situation, mostly because they are being forced to yield market share to the Chinese, whose products are frequently cheaper and mostly of a higher quality than those they offer. In many cases, the North Korean traders have little hope of competing with their Chinese counterparts, not least since the latter can move more freely between the two countries.

The move is said to be one outcome of Chinese demands made when Kim Jong Il visited North Korea's sole major ally in 2010. As such, it joins the leasing of port facilities at Raijin and Chongjin and the construction of a road between Namyang and Chongjin as outcomes of the former leader's visit.

However, it could just as easily be rescinded as continued. According to the source, "Onsung County cadres say that they opened up because the General (Kim Jong Il) ordered it, but that comrade Kim Jong Eun has said they need to keep a close eye on things. Because of the [freedom of information] effect it might have on the people, a limit to the number of Chinese people being allowed in has been set."

In one of few previous examples of something similar, Chinese citizens were permitted to trade in the immediate vicinity of Wonjeong-ri Customs House near the special economic area at Raijin-Sonbong in around 1996. However, this was not allowed to become permanent.
Chris Green also wrote more extensively about this development.
Read the full story here:
50-70 Traders Arriving in Namyang Daily
Daily NK
Choi Song Min
2012-06-20