October 31st, 2014
Google has offered some beautiful new satellite imagery of the Pyongyang area dated September 21, 2014. The imagery shows the Pyongyang region remains an area undergoing tremendous transformation that has taken place over the last decade. Below I have highlighted some of the more interesting changes that have appeared in the last few months.
1. The nearly completed Wisong (Satellite) Scientist Street (위성과학자거리) in Unjong District, Pyongyang: 39.231244°, 125.870377°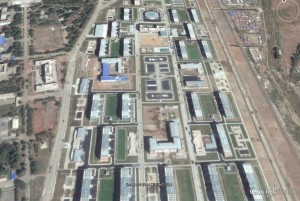 The Satellite Scientist Street is in Unjong District next to the State Academy of Sciences and inside the newly-announced Unjong Cutting-Edge Technological Development Zone. The area is approximately 900m x 360m and consists of 24 residential blocks (each seven stories, appx 13m x 80m) of alternating green and yellow. There are also approximately eight parks (of one kind or another), nursery, kindergarten, primary school, junior secondary school, standard North Korean retail outlets, hospital, polyclinic, health complex, greenhouses and vegetable gardens. Also constructed nearby is the new Natural Energy Institute of the State Academy of Sciences and a new Paesomjon train station.
After being out of public view for over a month this fall, Kim Jong-un made a notable appearance here on October 14. It was completed and opened on the 17th. Officially the compound is for scientists at the State Academy of Sciences.
2. Pyongyang Baby Home and Orphanage (평양육아원,애육원): 39.042442°, 125.794987°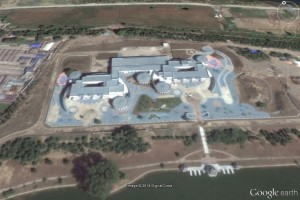 This new orphanage in Pyongyang is by far the country's largest and nicest. It sits on a plot of land approximately 110m x 250m. Kim Jong-un visited the completed facility on October 27.
During the construction, many visitors to Pyongyang were unaware of the location of this project (I know because I asked). This is because it lies secluded behind exclusive leadership residencies (Undok Housing Complex and and United Front Department Housing) in northern Taedonggang District.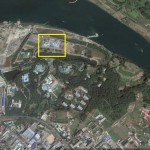 3. New luxury restaurant boat on Taedong River: 39.014252°, 125.755015°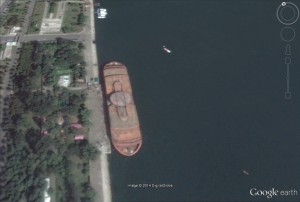 A large restaurant boat is under construction on the banks of the Taedong River in central Pyongyang. Not much is known about this boat yet, but it is approximately 118 meters long–nearly twice the length of the largest restaurant boat in the DPRK, the Taedonggang Restaurant Boat. The investors in this project must have high expectations. It will be interesting to see if these boats will all be managed by the same organization, and whether the Pyongyang consumer economy can support two such operations.
NK News was the first to report on this boat back on September 11. You can see a photo of the ship here.
4. Progress made on Mansudae Underground Convenience Store (만수대 지하편의상점): 39.026505°, 125.749284°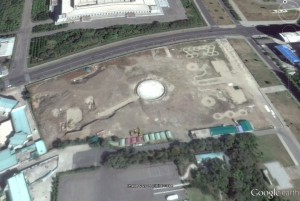 A Koryo Tours delegation in March of 2013 was the first to report that the Hakdanggol Fountain Park had been torn down to make way for a new facility in the heart of the central district.  The DPRK has yet to announce much information related to the project, but tourist photos indicate it will be an underground shopping center below a park.
5. Progress made on high-rise shopping center near Tongil Market: 38.982815°, 125.733247°
Situated just north of Pyongyang's most popular market (for foreigners), the Tongil Street Market, and just south of the failed investment project KKG Avenue, this large high-rise construction project continues to make progress. The building appears to have an "H" shaped base approximately 110m x 70m. This project is likely being supported by foreign investors, however we do not know who they are or anything substantive about this project.
6.  Progress made on East Pyongyang Shopping Mall (동평양지구 상업거리): 39.030246°, 125.775913°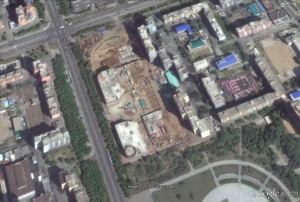 The groundbreaking ceremony for this project was held on January 16th, 2014, but little substantive work had been done as late as April. The construction site is approximately 270m x 110m and was unoccupied as far back as 2000. When launched, this shopping center was under the auspices of the State Economic Development Commission (SEDC–the same organization responsible for the nation's new economic development zones) and a Chinese consortium named "Great China International Group". Since the launch, the  SEDC, Ministry of Foreign Trade, and the Joint Venture Investment Corporation (JVIC) have been merged into the Ministry of External Economic Affairs (Not to be confused with the External Economic Affairs Commission which was dissolved in the late 1990s).
7. Closure of east Pyongyang tram depot and removal of tracks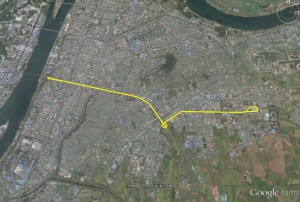 According to new satellite imagery, one of Pyongyang's tram lines has been removed. The tracks, which were inlaid into the road, seem to have been completely pulled up and the roads repaved. The tram depot remains in eastern Pyongyang, but it can be easily be re-purposed to serve as storage or manufacturing needs in the future.
It will be interesting to see if this has any effect on the Sadong Market which lies directly next to the former tram depot. It would have been relatively easy for customer to travel to the market with such convenient public transport, but will people make the effort when the commute becomes more complicated?