UPDATE 1 (2015-8-17): Kim Jong-un visited the Wonsan Airport (Kalma Airport) for an air force demonstration reported in Rodong Sinmun on July 30. You can see a video of that event here. A second official video claims that the demonstration took place on July 28. A satellite image of the facility was taken just the day before (July 27) and we can see some of the new facilities and preparation for Kim Jong-un's arrival. I have already reported on most of this material at Radio Free Asia (새단장 갈마비행장…활주로에 광고도).
First, Google Earth imagery shows thousands of soldiers on the new runway practicing for Kim Jong-un's arrival at the observation building. They can also be seen in the official images: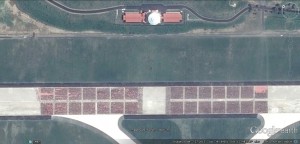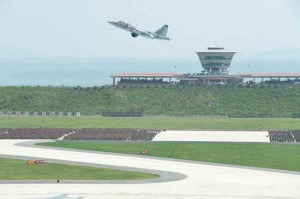 We can also see the completed (on the outside) Wonsan Airport terminal building:
Also unveiled is the new logo for the airport which reminds visitors that (despite the heavy military presence) the new airport welcomes civilian vacation travelers. We can see this design at both ends of the runway: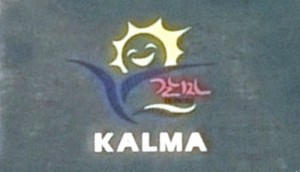 We can also see what appears to be a (fifth!) runway for Kim Jong-un. This runway contains similar facilities to the new Kim Jong-il runway built in Taesong District for use of the individuals that live in the Kim Family's Ryongsong Complex: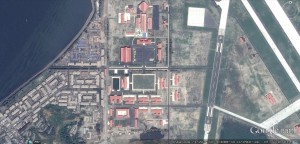 Pictured above: The probable Kim Jong-un light aircraft runway at the Wonsan Kalma Airport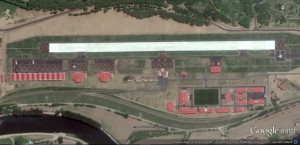 Pictured above: Kim Jong-un's runway in Taesong district of Pyongyang which bears a close resemblance to the facilities at the Wonsan Kalma Airport.
ORIGINAL POST (2015-5-1): New Google Earth imagery shows continued development of the new civilian airport in Wonsan. The airport is presumably intended to support the Wonsan-Mt. Kumgang International Tourist Zone.
2015-3-26 (Google Earth)
2015-2-10 (Google Earth)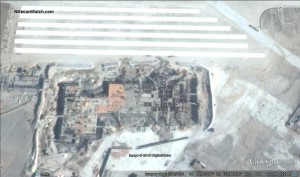 2014-12-25 (Google Earth)