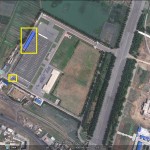 Pictured Above (Google Earth): Pyeonghwa Motors Factory in Nampho. Recent additions highlighted in Yellow.
UPDATE 1 (2013-1-22): In a later interview, the head of Pyeonghwa Motors revealed more information on his compan'y relinquishment of Pyeonghwa Motors, and described their future ambitions.
ORIGINAL POST (2012-12-3): According to Yonhap (via Korea Times):
The source said, "As far as I know, Pyeonghwa Motors is seeking to sell its factory in Nampo for about US$20 million in order to end its auto business."

…

"The (South Korean) president of the auto firm appears to be eyeing the distribution sector" in North Korea, an official at the foundation said, adding the president may move to a new industry after liquidating the auto business. "But nothing has been determined so far," the official said.

Pyeonghwa Motors president Park Sang-Kwon is widely expected to hold discussions with the North over the business shift during a North Korean visit scheduled for mid-December, to mark the first anniversary of the death of late North Korean leader Kim Jong-il, who died on Dec. 17.
According to the Wall Street Journal:
The North Korean government is a 30% partner in the car manufacturer.

A unit from the church's business arm spent about $55 million to build the Pyeonghwa factory in Nampo, a port city on North Korea's west coast about an hour or so outside of the capital Pyongyang. After the factory was completed in 2002, workers there completed partially built cars, in a form called knockdown kits, that were imported from manufacturers in Italy and China.

But the company appears to have rarely been profitable. In 2009, the firm earned about $700,000 from the sale of 650 cars. About $500,000 of that was remitted to its parent operation in South Korea. The South Korean government noted then that it was the first time a South Korea-based company repatriated profits from North Korea.
The Pyeonghwa Motors web page does not contain any information on this development.  You can view the web page here (english). The last published press release was on 2011-1-11: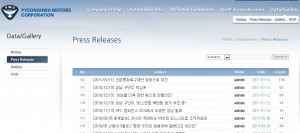 The web page does have production and sales data (if you choose to believe it):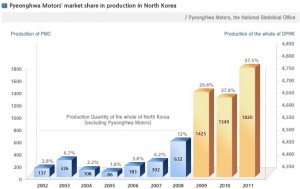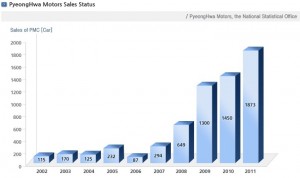 No revenue or profit numbers are given on the web page, but it does mention that the factory's capacity is 10,000 units per year. If these numbers are correct, in 2011 (the most productive year in terms of output) the factory was only running at approximately 19% capacity.
The Pyeonghwa Motors web page also offers a grand vision of the factory's future (100,000 unit capacity):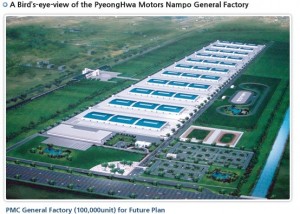 However, as Google Earth satellite imagery shows, this plan has yet to come to fruition.
Previous posts on Pyeonghwa Motors here.
Read the full stories here:
Unification Church to wind up auto venture in NK
Yonhap (via Korea Times)
2012-11-28
End of the Road for North Korean Auto Maker?
Wall Street Journal Korea Real Time
Evan Ramstad
2012-11-27