Instagram is no longer an option for regular tourists to the DPRK, but expats and regular visitors are still allowed access to the service. So Koryo Tours has used mobile access to photograph some recent changes in Pyongyang. I thought I would post a couple of their interesting images below and match them with satellite imagery to give a little more perspective.
Taedonggang Bar No. 3 (대동강제3술집):
Renovation on this bar began sometime after Feb 2012. The interior (pics by Koryo Tours) looks like any of the bars in Dupont Circle:
According to Koryo Tours, beer costs 1.5 Euros (per pint/half litre). There are seven taps along the bar. I assume they serve various brands of Taedonggang Beer.
Koryo Tours also posted this image of a new shopping center under construction in downtown Pyongyang: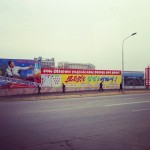 Plastered to the wall is a map of what the site will look like when construction is completed, however, it is too small to make out with any specificity with this image.  Currently we do not know any details about this facility (or even its proper name), but hopefully it will appear in the official North Korean media before too long. Here is the location of the new facility: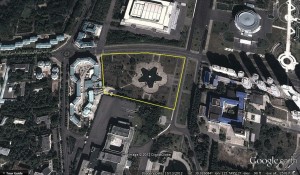 The construction site sits on the former star-shaped fountain of the Mansudae Fountain Park….between the Mansudae Assembly Hall (Supreme People's Assembly), Pyongyang Student's and Children's Palace, Mansudae Art Theater, and new Mansudae Street housing.