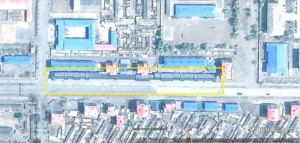 Above (UPDATED): Google Earth satellite imagery of "Food Avenue" in Hoeryong
According to the Daily NK:
A North Korean source from [Hoeryong] has reported that "Food Avenue", a project designed to attract Chinese tourists to the city which began almost two years ago, has been completed.

According to the source, who spoke with The Daily NK on the 18th, "'Food Avenue', below Kim Jong Suk University of Education in Nammun-dong, has just been completed, and now they are making a fuss about it as it will appear on television today. Several restaurants like Hoiryeonggak, a noodle restaurant, held opening ceremonies today, too."

North Korea launched the construction project on orders issued by Kim Jong Il during a visit to his mother's home town on February 24th, 2009, causing the provincial and city Party committees of North Hamkyung Province and Hoiryeong to launch a 150-day battle to complete the work between April 20th and September 16th.

However, even though workers, housewives and students were pressed into service during the period, the project was not even 50% complete by September. Although North Korea tried to attract Chinese investment, it did not work and the project finally limped to the finish line more than a year later.

The avenue starts from the front gate of Kim Jong Suk University of Education and ends in front of 'Hoiryeong coal mining machinery factory', a little more than a five minute walk away. Among other things, the restaurants on the street sell North Korean-style noodles, cold noodles, dog-meat soup and Chinese-style kebabs.

The authorities are hoping that by using the geographical location of Hoiryeong, on the border with the Chinese town of Sanhe, they will be able to attract tourists to Kim Jong Suk's hometown and earn hard currency at the same time.

Needless to say, however, that while the North Korean propagandist media is busy advertising the glorious completion of Food Avenue, local citizens are looking on with disdain.

As the source put it, "I have no idea what the purpose of building this avenue is, since who on earth would come and eat here? Only a few officials from foreign currency earning enterprises who travel back and forth to China will come, so it is pathetic to even imagine that the businesses will be successful."

"The restaurants on Food Avenue were as good as forced to open since they were assigned to individual enterprises," he went on, before adding, "The people just ask, 'Is there any way for businesses run by enterprises and the nation to be successful?'"
I have not seen any North Korean television this week, but if I see ground level pictures, I will post them.
Read the full story here:
Food Avenue Finally Complete in Hoiryeong
Daily NK
Yoo Gwan Hee
10-19-2010