Thursday, July 2nd, 2015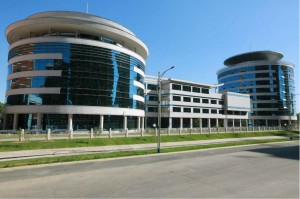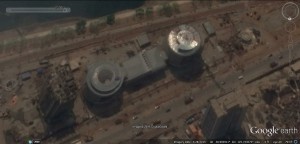 Top: Official KCNA photo of the new Automation Institute of Kim Chaek University of Technology Bottom: Google Earth satellite image of the facility in the new Mirae Scientist Street
According to Google Earth imagery, construction on the project started around September 2014.
According to KCNA:
Kim Jong Un Gives Field Guidance to Automation Institute of Kim Chaek University of Technology

Kim Jong Un, first secretary of the Workers' Party of Korea, first chairman of the DPRK National Defence Commission and supreme commander of the Korean People's Army, gave field guidance to a newly-built building of the Automation Institute of Kim Chaek University of Technology.

He was greeted on the spot by Hwang Pyong So, Kim Jong Gwan, other officials of the relevant field and officers of the KPA units taking part in the construction.

He had promised to make sure that a new building was constructed for the Automation Institute when he was acquainting himself with the work of the institute in April last year.

He chose the site of the institute on the picturesque bank of the River Taedong and guided its layout several times. He not only saw to it that a powerful construction force of the People's Army was formed for the project but personally settled the issues arising in it.

Enjoying a bird's-eye view of the institute, he said the institute was successfully built to match the environment around it as required by the layout ratified by the party.

He went round several places of the institute to learn about its construction in detail.

He was pleased that the institute was built in such a way as to visually showcase the party's policies of attaching importance to science and technology and talents and provide its researchers with ample conditions for their scientific researches and living.

He told officials to fully provide the institute with reading rooms, e-library and video system so that they might help the researchers in their work and study.

Noting that a country can prosper only when a revolution is carried out with a proper view and stand on science and talents, he underscored the need to provide the institute with modern equipment and vehicles necessary for its operation as it was built into a cutting-edge scientific research center. He was so kind as to promise to ensure that this matter would be settled by the party.

He highly praised the soldier builders of KPA units 407 and 101 for fully displaying the revolutionary soldier spirit in the construction of the institute.

He expressed belief that the researchers of the institute would creditably perform their mission and duty as standard-bearers in breaking through the cutting-edge science and technology by carrying forward the tradition in which they have contributed to the cause of the party with their valuable scientific and technological achievements and thus give fuller play to their patriotic enthusiasm and devotion to living up to the expectations of the party, the country and its people.