Monday, May 2nd, 2016
A BBC reporter took a picture of "Guesthouse No. 24" in the housing compound supposedly under control of the International Department of the KWP: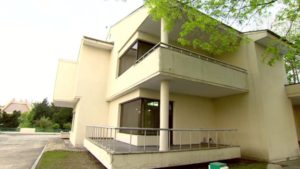 This area is in Pothonggang District near the new "General Satellite Control Center" (and the Pyongyang City branch of the Ministry of State Security).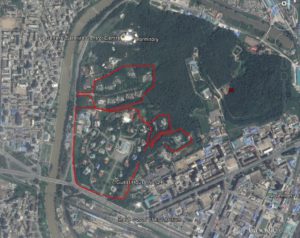 The article mentions that other journalists are staying here as well, but it is unclear just who all is there at this time.
Presumably Pyongyang's hotels are filled with people that western journalists would like to interview for their stories on the historic KWP Congress this week, so this would be a nice, comfortable and isolated place to keep foreign journalists under control.
Anna Fifield reports that journalists are being spread across town. Some are in the Yanggakdo Hotel and others are in the Koryo Hotel.
It is still unclear where the local delegates to the conference are being kept. Here is what Rodong Sinmun had to say:
Senior Party, State, Army Officials Visit Lodging Quarters of Participants in WPK Congress

Senior party, state and army officials Tuesday visited the lodging quarters of the participants in the Seventh Congress of the Workers' Party of Korea (WPK).

Senior party, state and army officials Kim Yong Nam, Pak Pong Ju, Choe Ryong Hae, Choe Thae Bok, Pak Yong Sik, Yang Hyong Sop, Kwak Pom Gi, O Su Yong, Kim Phyong Hae and Kim Yong Chol and officials of party and armed forces organs visited the lodging quarters to meet the participants.

They referred to the fact that all service personnel and people of the DPRK have waged a dynamic struggle for the final victory in building a thriving socialist nation, registering special events and achievements by leaps and bounds one after another under the guidance of Marshal Kim Jong Un.

They called on all the participants to play a vanguard role in the drive to implement the idea and line of the Party in the future, too, bearing deep in mind the undying exploits the peerlessly great men of Mt. Paektu performed for the founding and development of the Party.
If I had to guess, I would say 4.25 Hotel in Mirim, but who knows at this point.