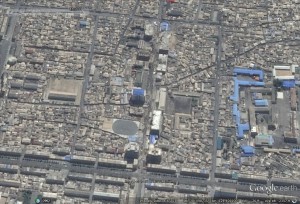 Pictured above (Google Earth: 2014-8-6): New apartment housing in Chaeha-dong, Sinuiju.
According to the Daily NK:
The real estate market in a strategic location of North Korea is heating up, with a recently new venture seeing apartment units being traded for up to 30,000 USD , the Daily NK has learned.

"Real estate development in Sinuiju City has been pretty active since two years ago," a source based in the province told the Daily NK on Tuesday. "Starting last July or August, construction for high-rises has been underway in the Chaeha-dong neighborhood."

The apartments in Chaeha-dong are being built on joint investments from foreign currency-earning enterprises and the donju [the new affluent middle class], according to the source. To clear the way for the lucrative project, Chaeha Market, the largest distribution market in the city, has been relocated to park grounds located in Namsang-dong.

While private property purchases remain illegal in North Korea, beleaguered by economic hardship, the state dolls out tacit consent to these endeavors, encouraging increasingly more illicit trade within the burgeoning real estate market.

In areas like Sinuiju, a main portal to and from China, there is no shortage of solvent buyers eager and willing to pay for property in the area, knowing its value will only continue to increase. The apartments taking over the Chaeha Market grounds are modern buildings of roughly 100 square meters, constructed from materials exclusively imported from China. Situated in a prime location near Sinuiju Customs House, the complex offers convenient transportation options compared to other locations, warranting the relative high prices, according to the source.

Units in the complex come in three varieties, depending on their stage of completion: "If only the framework of the apartment is put up, it is sold for 20,000 USD; if interior construction is completed, it trades for 25,000 USD; and if decorative touches are added, it fetches 30,000 USD," she explained. According to exchange rates in North Korean markets on the 7th, 1 USD trades for roughly 8,000 KPW.

Labor for the cause consists of workers from state-run enterprises and "8.3 Workers" with special expertise. The term, "8.3 Workers," stems from a system where workers earn money outside their state-mandated workplaces and present de facto tax payments back to their employers but also keep a portion of the profits. In this case, the "8.3 Workers" are sectioned off into "8.3 Units" of five to eight people, tasked with plastering or putting down tiles in one unit within the residential complex.

Regarding compensation for their work on the new building, "8.3 Groups" reach an agreement with the construction company, affiliated with a foreign-currency earning enterprise, on rates and then work around the clock once ground breaks on the project. "Time equals money," as the source said, adding that one worker is estimated to receive roughly 30,000 [3.75 USd] to 50,000 KPW [6.25 USD] a day of work and is guaranteed rations and meals.

For investors, however, the project yields far more significant returns. "If an individual invests in one of these companies' real estate construction project, the profits are divided up 3:7 and the investor receives a 30 percent share from sales of the completed property," the source explained.

Donju invest in housing construction projects with these firms because they are unable to receive legal permission from the Ministry of Construction to engage in such personal investments. Although donju involvement in these undertakings has been known to sometimes take the form of loans offered to construction firms at lofty interest rates, this method proves less popular for the simple fact that there is less guarantee for them to receive what they are owed; needless to say, no laws exist to protect these–by official North Korean law–illicit transactions.

This fact propels most of the donju to invest in the permanence and relative stability property offers, all while skimming 30 percent of the overall profits from the sale; it is also why the source speculated this form of investment to continue to gain traction.

She added that demand for news persists on with unhindered growth. Party cadres and the donju continue to purchase completed units; in fact, many even buying two or three units using their relatives' names to ensure future usage.

Meanwhile, residents of Chaeha-dong in Sinuiju are currently residing at the Sinuiju Medical University dorms or at homes of their relatives. The source reported that these temporarily displaced persons will be moving in, free of charge, to the newly built apartments following their completion. She noted, however, that this contingent forms a disproportionate percentage to those who have purchased units within the complex.
Read the full story here:
Real Estate Market Booming in Sinuiju
Daily NK
Seol Song Ah
2015-01-14