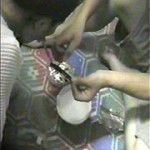 Picture above from the Daily NK.
According to the Donga Ilbo:
China has begun cracking down on North Korea`s narcotics trade in China along with South Korean intelligence, having seized 60 million U.S. dollars worth of drugs from the North last year, according to a South Korean government source Monday.

"It's only a fraction. The volume of drug trafficking in China will be much greater than that," the source said.

This is the first time for China to unveil the volume of narcotics made in North Korea.

Beijing had been reluctant to raise the matter in public though it found Pyongyang`s increased drug trafficking as a threat. China diplomatically protects the North in nuclear issues but started a crackdown with South Korea apparently because it can no longer tolerate the North`s narcotics, which threatened China`s three northeastern provinces bordering the North.

The drugs seized by Beijing are said to have the best quality, going beyond the level individuals can produce. So Pyongyang is considered to be manufacturing narcotics on the national level at factories.

"China is pretty much pissed off," a diplomatic source said, adding, "China believes that North Korea's drug trafficking has grown more serious since last year."

Though Beijing did not specifically mention the North when it stressed a crackdown on drugs, it implied North Korean-made narcotics.
In a previous post, we linked to a Newsweek story on the Chinese crackdown:
Twenty years ago, Yanji had only 44 registered drug addicts. Last year, the city registered almost 2,100 drug addicts, according to a 2010 Brookings Institution report, with more than 90 percent of them addicted to meth or similar synthetic drugs. Local officials acknowledge that this is very likely a gross undercount and that the actual number may be five or six times higher. "Jilin Province is not only the most important transshipment point for drugs from North Korea into China, but has itself become one of the largest markets in China for amphetamine-type stimulants," the Brookings report said.

Chinese authorities recently conducted a provincewide crackdown, code-named Strong Wind. But for law enforcement, the drug presents a particular problem. Unlike other drugs, it's nearly impossible to trace the origin of meth. Still, officials, residents, and experts believe that much of the methamphetamine consumed in this Chinese region is manufactured across the border in North Korea, a longtime exporter of drugs. "Clearly," the Brookings report said, amphetamine-type stimulants "from North Korea have become a threat to China in recent years."

In an article published last year, Cui Junyong, a professor at Yanbian University's School of Law, posited that a large amount of the illegal drugs ingested in Yanji came from North Korea. Supporting his point, the border patrol last year arrested six North Koreans in a high-profile bust, including a dealer named "Sister Kim." Although sources estimate that a gram of meth in North Korea costs roughly 10 times the price of a kilo of rice—about $15—it's still much cheaper than in China.

"Selling ice is the easiest way to make money," says Shin Dong Hyuk, who was born in a North Korean concentration camp in 1982 and escaped to South Korea in 2005. Every defector, he added, "knows about ice."

Perhaps because of its alliance with its benighted neighbor, the Chinese government has been extremely careful about pointing its finger at North Korea; reports on drug busts in Jilin province euphemistically refer to the drugs as coming from a "border country."

"We don't publicize" the drugs coming from North Korea because it would touch on "the good relationship between China and North Korea," an official, requesting anonymity, from Jilin's anti-drug unit says. But he adds, "Of all the drugs we've seized this year, it's mostly been ice, because that's our main drug here."

…

According to Yun and others, North Korea's methamphetamine production is centered in Hamheung, the site of a chemical-industrial complex built by the Japanese during World War II, which has a high concentration of chemists and was reportedly one of the worst-hit cities during the famine.
…
Earlier this year, a US Department of State report to the Congress alleged that the DPRK's state-sponsored drug production was on the wane–though "private" production and trade along the Chinese border remained a problem.  According to one report:
In an annual report submitted to Congress, the US State Department said "no confirmed instances of large-scale drug trafficking" involving the North Korean state or its nationals were reported in 2010.

It said there was not enough information to confirm that the communist state was no longer involved in drug manufacture and trafficking "but if such activity persists, it is certainly on a smaller scale".

This is the eighth consecutive year that there were no known instances of large-scale methamphetamine or heroin trafficking to either Japan or Taiwan with direct North Korean state involvement, it said in the 2011 International Narcotics Control Strategy Report.

"The continued lack of public reports of drug trafficking with a direct DPRK (North Korea) connection suggests that such high-profile drug trafficking has either ceased or been sharply reduced," the report said.

The report said, however, that trafficking of methamphetamines along the North Korea-China border continues and press reports about such activities have increased in comparison to last year.

"These reports… point to transactions between DPRK traffickers and large-scale, organised Chinese criminal groups" in locations along the border.

"Press reports of continuing seizures of methamphetamine trafficked to organised Chinese criminals from DPRK territory suggest continuing manufacture and sale of DPRK methamphetamine," the report said.

This and continued trafficking in counterfeit cigarettes and currency suggests that "enforcement against organized criminality in the DPRK is lax", it added.
Additional Information:
1.  Back in March, Andrei Lankov wrote about this situtaion.
2. Earlier this year, the DPRK arrested some Japanese men in Rason for "trafficking and counterfeit".
3. In June, China intercepted a meth shipment from the DPRK.
4. Marcus Noland also has posted on this topic.