The most authoritative map of North Korea on Google Earth
Download it here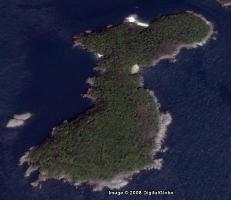 This map covers North Korea's agriculture, aviation, cultural locations, markets, manufacturing facilities, railroad, energy infrastructure, politics, sports venues, military establishments, religious facilities, leisure destinations, and national parks. It is continually expanding and undergoing revisions. This is the eleventh version.
Additions include: Mt. Paegun's Ryonghung Temple and resort homes, Pyongyang's Chongryu Restaurant, Swiss Development Agency (former UNDP office), Iranian Embassy, White Tiger Art Studio, KITC Store, Kumgangsan Store, Pyongyang Fried Chicken Restaurant, Kilju's Pulp Factory (Paper), Kim Chaek Steel Mill, Chongjin Munitions Factory, Poogin Coal Mine, Ryongwun-ri cooperative farm, Thonggun Pavilion (Uiju), Chinju Temple (Yongbyon), Kim il Sung Revolutionary Museum (Pyongsong), Hamhung Zoo, Rajin electrified perimeter fence, Pyongsong market (North Korea's largest), Sakju Recreation Center, Hoeryong Maternity Hospital, Sariwon Suwon reservoir (alleged site of US massacre), Sinpyong Resting Place, 700 Ridges Pavilion, Academy of Science, Hamhung Museum of the Revolutionary Activities of Comrade Kim Il Sung, South Hamgyong House of Culture, Hamhung Royal Villa, Pork Chop Hill, and Pyongyang's Olympic torch route. Additional thanks go to Martyn Williams for expanding the electricity grid, particularly in Samjiyon, and various others who have contributed time improving this project since its launch.
Disclaimer: I cannot vouch for the authenticity of many locations since I have not seen or been to them, but great efforts have been made to check for authenticity. These efforts include pouring over books, maps, conducting interviews, and keeping up with other peoples' discoveries. In many cases, I have posted sources, though not for all. This is a thorough compilation of lots of material, but I will leave it up to the reader to make up their own minds as to what they see. I cannot catch everything and I welcome contributions.  Additionally, this file is getting large and may take some time to load.