Thursday, June 2nd, 2011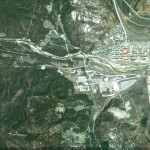 Pictured above (Google Earth): April 2010 satellite imagery of the Kumgang tourist resort
The Kumgang resort was receiving 400,000 visitors per year until in July 2008 it became the scene of a terrible tragedy, the shooting of a South Korean tourist. Following the incident, the South Korean government prohibited its citizens from visiting the resort until the DPRK allowed a joint-Korean investigation of the shooting and made a guarantee of future safety.  The DPRK never agreed to these terms so the park fell idle.
The suspension of the project has cost the DPRK government millions of dollars. In response it has moved to pressure the ROK government to change course and allow the tours to resume. Below I have kept a timeline of the course of these events and their outcomes.
___________
2012-11-27: The Hankyoreh reports that North Korea provided a written guarantee for the safety of tourists at Mt. Kumkang during 2010 working level talks with the South Korean government.
2011-9-6: South Korea asks foreigners not to invest in Kumgang saying such investments would violate existing property rights.
2011-9-6: Park Chol-su, head of Daepung International Investment Group, said he wants to discuss with South Korea's Hyundai Asan how to handle its assets at the North's Mount Kumgang.
2011-8-31: Chinese tourists arrive in Kumgang on Mangyongbong.
2011-8-30: South Korea calls for international boycott of Kumgangsan resort
2011-8-28: Taephung Investment Group outlines new Kumgang business plan
2011-8-24: Kumgang opened to DPRK and Chinese toursits
2011-8-23: South Korean workers leave Kumgang
2011-8-22: DPRK orders expulsion of remaining South Korean staff, auctioning of assets
2011-8-19: Hyundai officials visit Kumgang amid dispute over fate of company assets
2011-8-6: Steve Parks claims he has signed an MOU with the DPRK government
2011-6-2: "DPRK Law on Special Zone for International Tour of Mt. Kumgang" released. PDF of the statute here.
2011-4-29: SPA designates Kumgang special zone
2011-4-1: DPRK rescinds Hyundai's Kumgang contract rights
2010-11-15: Kumgang re-fozen
2010-10-31: Family reuniuons were held there in October/November
2010-8-7: DPRK using Kumgagn assets to serve tourists in the North
2010-5-16: Taephung shows Chinese investors Kumgang
2010-5-3: Most South Korean and Chinese employees leave
2010-4-25: The National Defense Commission takes over the properties and puts the Korea Taepung International Investment Group in charge of attracting investors and tourists to the resort.
2010-4-23: Seoul denounces the seizure
2010-4-11: Chinese tourists began arriving at the resort (here and here).
2010-4-11: Employees told to leave/sealed up
2010-4-11:The DPRK "seizes" the Hyundai properties in the Kumgang resort
2010-3-24: Investors worried about losing out
2010-3-18: DPRK threatens to seize Kumgang Resort
2010-3-18: Hyundai-Asan's chief offers to resign
2010-3-10: DPRK threatens to revoke contracts with South Korean partner, Hyundai-Asan