North Korea Uncovered v.16
Download it here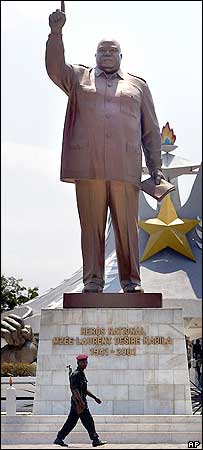 The most recent version of North Korea Uncovered (North Korea Google Earth) has been published.  Since being launched, this project has been continuously expanded and to date has been downloaded over 32,000 times.
Pictured to the left is a statue of Laurent Kabila of the Democratic Republic of Congo.  This statue, as well as many others identified in this version of the project, was built by the North Koreans. According to a visitor:
From the neck down, the Kabila monument looks strangely like Kim Jong Il: baggy uniform, creased pants, the raised arm, a little book in his left hand. From the neck up, the statue is the thick, grim bald mug of Laurent Kabila (his son Joseph is the current president). "The body was made in North Korea," explains my driver Felix. In other words, the body is Kim Jong Il's, but with a fat, scowling Kabila head simply welded on.
This is particularly interesting because there are no known pictures of a Kim Jong il statue.  The only KJI statue that is reported to exist is in front of the National Security Agency in Pyongyang.  If a Kim Jong il statue does in fact exist, it might look something like this.
Thanks again to the anonymous contributors, readers, and fans of this project for your helpful advice and location information. This project would not be successful without your contributions.
Version 16 contains the following additions: Rakwon Machine Complex, Sinuiju Cosmetics Factory, Manpo Restaurant, Worker's Party No. 3 Building (including Central Committee and Guidance Dept.), Pukchang Aluminum Factory, Pusan-ri Aluminum Factory, Pukchung Machine Complex, Mirim Block Factory, Pyongyang General Textile Factory, Chonnae Cement Factory, Pyongsu Rx Joint Venture, Tongbong Cooperative Farm, Chusang Cooperative Farm, Hoeryong Essential Foodstuff Factory, Kim Ki-song Hoeryong First Middle School , Mirim War University, electricity grid expansion, Tonghae Satellite Launching Ground (TSLG)" is also known as the "Musudan-ri Launching Station," rebuilt electricity grid, Kumchang-ri suspected underground nuclear site, Wangjaesan Grand Monument, Phothae Revolutionary Site, Naedong Revolutionary Site, Kunja Revolutionary Site, Junggang Revolutionary Site, Phophyong Revolutionary Site, Samdung Revolutionary Site, Phyongsan Granite Mine, Songjin Iron and Steel Complex (Kimchaek), Swedish, German and British embassy building, Taehongdan Potato Processing Factory, Pyongyang Muyseum of Film and Theatrical Arts, Overseas Monuments built by DPRK: Rice Museum (Muzium Padi) in Malaysia, Statue de Patrice Lumumba (Kinshasa, DR Congo), National Heroes Acre (Windhoek, Namibia), Derg Monument (Addis Ababa, Ethiopia), National Heroes Acre (Harare, Zimbabwe), New State House (Windhoek, Namibia), Three Dikgosi (Chiefs) Monument (Gaborone, Botswana), 1st of May Square Statue of Agostinho Neto (Luanda, Angola), Momunment Heroinas Angolas (Luanda, Angola), Monument to the Martyrs of Kifangondo Battle (Luanda, Angola), Place de l'étoile rouge, (Porto Novo, Benin), Statue of King Béhanzin (Abomey, Benin), Monument to the African Renaissance (Dakar, Senegal), Monument to Laurent Kabila [pictured above] (Kinshasa, DR Congo).