1. Google has uploaded some beautiful new satellite imagery of Pyongyang. Some parts of it are easier to see than others, and I have not gone through it all, but here are some fun, quick discoveries:
1. There appears to be a new aircraft runway in Ryongsong-guyok (룡성구역, 39.127835°, 125.777533°).  Maybe not, but maybe.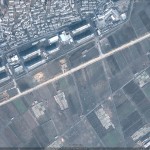 2. The Ryugyong Hotel is looking more and more like a space ship: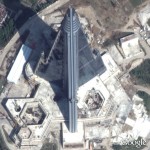 3. We can see 2012 building construction all over the place.  Below are the new apartments Kim Jong-il recently visited (L) at the foot of Haebang Hill and (R) behind the Central District Market (for artists).
Here and here are the KCNA stories about Kim's visits to the sites.
Here is a photo of the artist-housing under construction.
The Haebang Hill apartments are built on the former location of the "Monument to the Fallen Fighters of the Korean People's Army".  See a picture of this former monument here.
2. DPRK TKD in USA. As I mentioned a couple of days ago, a North Korean Taekwondo team toured the northeastern US this week.  I wish I could have seen one of the shows…but here are some clips from the New York show on Youtube: Part 1, Part 2, Part 3, Part4.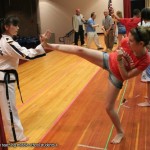 They did a great job and are tremendous athletes.  I hope they are able to return soon–and make it a little further south.
3. DPRK sand animation. This week KCNA posted some very interesting video of a "sand art" demonstration.  Very skilled performance. A viewer was able to rip the video and post it to YouTube.
Pictured above is the "Ryugyong Hotel fireworks" part of the performance.  Part 1 of the piece is here.  Part 2 of the piece is here.  The whole performance is well worth watching. If I could ever be a tourist to the DPRK again, I would want to see one of these performances.
UPDATE: A special thanks to Prof. Stephan Haggard for offering a helpful explication of the piece.
In a similar vein, this piece remains my favorite of the genre (from Ukraine).
2. Kim's Train (Retro). Last week I posted recent video footage taken from inside Kim Jong-il's train.  This week I post some retro footage taken in the 1970s(?):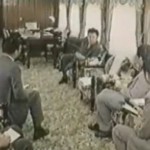 You can see the video here.  The room set up is essentially the same, though Kim's tastes have obviously changed!
3. The CNC backpack.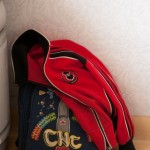 Here is the source.  Learn more about CNC here.
4. A North Korean artist reproduced da Vinci's Last Supper for an art show in Russia. See the Russian-language version of the BBC here (picture-8 ). (h/t L.P.)