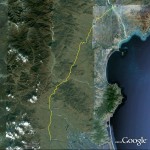 Pictured above (Google Earth): The approximate route of the new Kowon-Hamhung highway
Here are the KCNA stories on the new highway in chronological order:
Pavement Project of Kowon-Hamhung Highway Finished

Pyongyang, May 26 (KCNA) — The pavement project of the Kowon-Hamhung highway in South Hamgyong Province was finished recently. The highway began to be reconstructed on an expansion basis in mid-March.

Some 600,000 cubic meters of earth were cut or filled on the ground, over 250,000 cubic meters of sand and gravel tamped and nearly 700,000 square meters of road paved with concrete.

Trees have been planted and flowerbeds made on both sides of the highway. Slopes are being swarded and accident-preventing stones and waymarks installed.

Revetment, conduit and culvert projects will be completed soon.

The reconstructed highway will help facilitate transportation in the area and promote the country's economic growth.

Highway between Kowon and Hamhung Reconstructed

Pyongyang, May 31 (KCNA) — The highway between Kowon and Hamhung was successfully rebuilt.

The completion of this project helps to satisfactorily ensure the cargo transport for various domains of national economy, provide people with good conditions for travel and radically improve the environment in this area.

Builders finished the projects for paving the highway and building many structures, etc. in a matter of 60 odd days.

More than 40,000 trees of good species were planted and an area covering hundreds of thousands of square meters was put in turf, turning the landscape of the highway beautiful.

New Motorway Opened to Traffic in DPRK

Pyongyang, June 17 (KCNA) — A project for rebuilding Kowon-Hamhung motorway on an expansion basis has been completed in the DPRK.

During the project, the army and the people carried out concrete pavement and building of scores of bridges and retaining walls in single-minded unity.

The completion of project made it possible to contribute to the economic development of the country and renewed the looks of the land to meet the requirement of the Songun era.

A ceremony of opening the road to traffic took place on Friday. Present there were Premier Choe Yong Rim, Minister of the

People's Armed Forces Kim Yong Chun, Chief Secretary of the South Hamgyong Provincial Committee of the Workers' Party of Korea Kwak Pom Gi, officials of relevant organs, servicepersons, officials and builders of South Hamgyong Province, working people and helpers.

Conveyed at the ceremony was a message of thanks of the WPK Central Military Commission addressed to soldier-builders and inhabitants and helpers of South Hamgyong Province who performed labor feats in the project.

There were a report and speeches there.
The highway from Hamhung to Kowon, however, is only half of the distance needed to connect Hamhung to the Pyongyang-Wonsan paved highway.  I am unsure if the remainder of this route has already been completed or if it remains to be done as a separate project.
The distance of road that was paved is approximately 60km.