For those of you who have recently visited the DPRK or who spend too much time perusing Elufa.net or reading KCNA, you are undoubtedly aware of the DPRK's recent emphasis on something called "CNC".  I had no idea what CNC was, so I began collecting as much information as I could find on the net and I have posted it below.
Here is the Wikipedia page for CNC.  For those of you in China, here is what it says:
Numerical control (NC) refers to the automation of machine tools that are operated by abstractly programmed commands encoded on a storage medium, as opposed to manually controlled via handwheels or levers, or mechanically automated via cams alone. The first NC machines were built in the 1940s and '50s, based on existing tools that were modified with motors that moved the controls to follow points fed into the system on paper tape. These early servomechanisms were rapidly augmented with analog and digital computers, creating the modern computed numerically controlled (CNC) machine tools that have revolutionized the design process.

In modern CNC systems, end-to-end component design is highly automated using CAD/CAM programs. The programs produce a computer file that is interpreted to extract the commands needed to operate a particular machine via a post processor, and then loaded into the CNC machines for production. Since any particular component might require the use of a number of different tools—drills, saws, etc.—modern machines often combine multiple tools into a single "cell". In other cases, a number of different machines are used with an external controller and human or robotic operators that move the component from machine to machine. In either case, the complex series of steps needed to produce any part is highly automated and produces a part that closely matches the original CAD design.
That description is not nearly as helpful as this video on CNC: Click here (Might not work for readers in China).
The Asia Times ran a story which included a short history of CNC in the DPRK:
The name of the game is CNC – Computer Numerical Control – machine tools that have revolutionized the design process and said to be developed in the DPRK and already exported, for example, to China. Top exponents are the Korea Ryonha Machine Tool Corporation and the Taean Heavy Machine Complex. CNC billboards are all over Pyongyang. Inevitably CNC has its own dedicated patriotic song (no music video yet). Here are the lyrics, as translated by Andray Abrahamian, a doctoral candidate at the University of Ulsan in South Korea:

If you set your heart on anything
We follow the program making the Songun era machine technology's pride
Our style CNC technology

(chorus)

CNC – Juche industry's power!
CNC – an example of self-strength and reliance!
Following the General's leading path
Breakthrough the cutting edge

Arirang! Arirang! The people's pride is high
Let's build a science-technology great power
Happiness rolls over us like a wave

So the narrative of building a "socialist paradise" is now being supplanted by the narrative of developing and producing state-of-the-art technology to, as the Pyongyang Times indelibly put it, "improve the people's living standard on the word level". This is how the DPRK is mobilizing its people to "open the gate to a thriving nation in 2012". South Korea, watch out.
By way of luck, I managed to obtain a copy of the DPRK's CNC song. You can download the MP3 by right clicking here.
UPDATE: A reader did find this DPRK karaoke version of the CNC song complete with lyrics (in Korean).  Watch it here.
UPDATE 2: A reader also sends in this acoustic version of the CNC song (YouTube).
If you are itching to know what the DPRK's CNC machines look like, here is one display at the Three Revolutions Museum in Pyongyang:
Click images for larger versions
And here is some CNC propaganda that has appeared around Pyongyang:
Click images for larger versions
UPDATE: here is an additional photo taken by an anonymous tourist:

UPDATE: Here are some CNC postage stamps: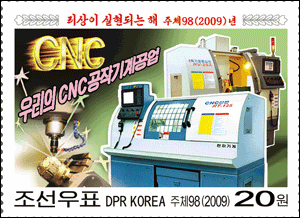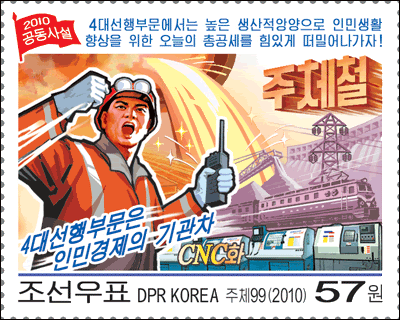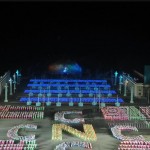 UPDATE: And CNC made part of the 2010 Mass Games (You Tube at the 1:25 mark). See a photo here.
KCNA has published plenty of news stories about CNC.  You can see them here courtesy of the Stalin Search Engine. CNC was first first mentioned on January 15, 2002 (KCNA) .  One phrase that is frequently mentioned is that thanks to innovations like CNC the DPRK is "Pushing back the frontiers of science".  Indeed North Korean economic policy seems hell-bent to do just that.  Hopefully we will soon see them change their policies to "push back the frontiers of ignorance".
CNC machines are produced by the Ryonha Machine [Tool] Factory (KCNA) and they have been widely promoted in the official media (here, here, here, here, and here for example).  It appears also that the Ryonha Machine Tool Factory has partnered up (with someone) to form a JV company which focuses on international trade, the Ryonha Machinery Joint Venture Corporation. Here is a PDF flyer of their products taken from the KFA web page, and some of the items they are selling can be seen here and here.
They Ryonha Machine Joint Venture Company, however, seems to have a history that might scare away many potential customers.  According to the US Treasury Department:
The U.S. Department of the Treasury today designated eight North Korean entities pursuant to Executive Order 13382, an authority aimed at freezing the assets of proliferators of weapons of mass destruction (WMD) and their delivery vehicles.  Today's action prohibits all transactions between the designated entities and any U.S. person and freezes any assets the entities may have under U.S. jurisdiction.

"Proliferators of WMD often rely on front companies to mask their illicit activities and cover their tracks," said Stuart Levey, the Treasury's Under Secretary for Terrorism and Financial Intelligence (TFI).  "Today's action turns a spotlight on eight firms involved in WMD proliferation out of North Korea.  We will continue to expose and designate these dangerous actors."

Today's action builds on President Bush's issuance of E.O. 13382 on June 29, 2005.  The Order carried with it an annex that designated eight entities – operating in North Korea, Iran, and Syria – for their support of WMD proliferation.  The President at that time also authorized the Secretaries of Treasury and State to designate additional entities and individuals proliferating WMD and the missiles that carry them.

Korea Mining Development Corporation (KOMID), which was designated in the annex of E.O. 13382, is the parent company of two of the Pyongyang-based entities designated today, Hesong Trading Corporation and Tosong Technology Trading Corporation.  These direct associations meet the criteria for designation because the entities are owned or controlled by, or act or purport to act for or on behalf of KOMID.

Korea Ryonbong General Corporation, also named in the annex, is the parent company of the remaining six Pyongyang-based entities designated today.  These entities include Korea Complex Equipment Import Corporation, Korea International Chemical Joint Venture Company, Korea Kwangsong Trading Corporation, Korea Pugang Trading Corporation, Korea Ryongwang Trading Corporation, and Korea Ryonha Machinery Joint Venture Corporation.

As subsidiaries of KOMID and Korea Ryonbong General Corporation, many of these entities have engaged in proliferation-related transactions.
I have been unable to locate the Ryonha Machine Tool Factory on Google Earth. If anyone has any pointers, please let me know.
Here is a list of factories the DPRK claims to be using CNC technology:
Amnokgang Daily Necessities Factory (KCNA)
Amnokgang Gauge and Instrument General Factory (KCNA)
Cholima Steel Complex (KCNA, Naenara)
Chonma Electrical Machine Plant (KCNA)
Feb 8 Vinalon Complex (KCNA)
Hamhung Wood Processing (KCNA)
Huichon Machine Tool Plant (KCNA)
Kangdong Weak Current Apparatus Factory (KCNA)
Kanggye General Tractor Plant (KCNA) (Underground)
Kanggye Knitted Goods Factory (KCNA)
Kanggye Wine Factory (KCNA)
KimChaek Iron and Steel Complex (KCNA)
Kusong Machine Tool Factory (KCNA)
Kwanmobong Machine Building Plant (KCNA)
October 10 Factory (KCNA)
Pukjung Machine Complex (KCNA)
Pyongyang Cornstarch Factory (KCNA)
Rakwon Machine Complex (KCNA)
Ryongsong Machine Complex (KCNA)
Sinuiju Spinning Machine Factory (KCNA)
Suphung Bearing Factory (KCNA)
Sungri Motor complex (KCNA)
Taean Heavy Machine Complex (KCNA)
Taedonggang Brewery (KCNA)
Tahungsan Machine Plant (KCNA)
Unsan Machine Tool Factory (KCNA)
I know the locations of many of these factories but not all.  If anyone has any information on their coordinates, please let me know.