UPDATE 4 (2015-7-6): Stephan Haggard provides some additional information on Queensway Group/KKG.
UPDATE 3 (2015-6-24): Writing in the Financial Times, Tom Burgis links Queensway Group/KKG with Office 39.
UPDATE 2 (2015-5-1): J.R. Mailey has much more information on the Queensway Group/KKG.
UPDATE 1 (2014-7-17): Over at 38 North, J.R. Mailey has uncovered much more information on KKG (Queensway Group) and linked it with the Kaesong High Tech Industrial Park.
ORIGINAL POST (2012-9-11): "Kumgang Street/KKG Avenue Project in Pyongyang": Aggressive construction and re-development projects have taken place on Pyongyang's Mansudae Street over the last few years as part of the DPRK's "Strong and Prosperous Nation (강성대국)" policies. See Mansudae renovation no. 1 here and Mansudae renovation no. 2 here.
Residential construction projects, however, have been limited neither to Mansudae Street (See here, here, here, here, here, here, here, here) nor to Pyongyang. In the interest of [my] time, I will offer only the most recent example: There are reports of an ambitions real-estate project in Chongjin, though satellite imagery in the area is too old to confirm the project or evaluate its size/scope.
However, a recent tourist photo taken in Pyongyang near the Tongil Market reveals yet another ambitious plan for residential development in Rakrang-guyok (락랑구역). It is unclear how long this project has been planned or if/why it appears to be on hold. Here is the photo of the billboard: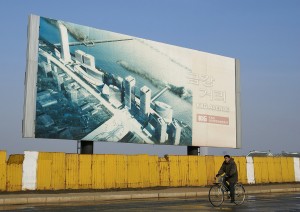 Click here to see a larger version of this photo on flickr.
According to the billboard, this project bears the name "Kumgang Street" in Korean (금강거리) and "KKG Avenue" in English. The operation appears to be run by 금강경제개발총회사 (The Kumgang Economic Development Corporation). A quick Google search for "금강경제개발총회사" yields pleanty of results, but all of them are in Korean–meaning it will be excruciatingly painful for me to do any research on this organization. If you can determine anything else about this project, please let me know.
From what I can tell, this effort is set to take place just north of the Tongil Market (conspicuously absent from the billboard, though enhanced with a wide avenue and bridge to Yanggak Island). Here is the approximate location as seen on Google Earth (I have added the position of the proposed Yanggak Bridge to make the comparison easier):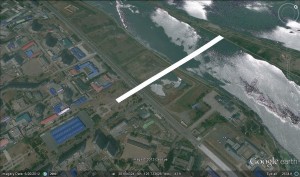 According to the billboard, the Mullet Soup Restaurant on the bank of the Taedong River will be part of the finished project.  The remainder of the land looks like it has been cleared and prepared for the development project, although historical imagery on Google Earth indicates that this land has been largely unused for decades. The image below dates from 2000-6-12: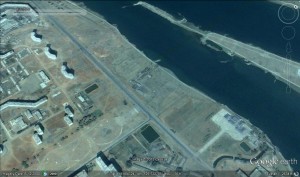 According to "The Skyscraper Center" the tallest building(s) in the new development will be 274m/899 feet.
I have been able to find out little more about this project. Again, if you can find additional information, please let me know.