UPDATE: Here is a satellite image of the completed project: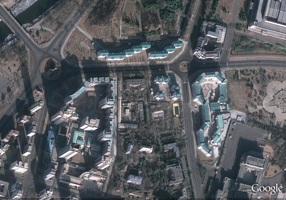 UPDATE: Mansudae Street construction is now visible on Google Earth.  Below I have included before and after pictures.  If you open them in separate browsers, you can click back and forth between images to compare.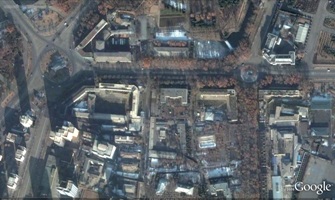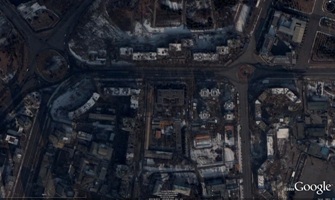 ORIGINAL POST: As capitalist countries are struggling with falling property values and a glut of housing inventories, Pyongyang is experiencing a housing construction boom (previously covered here and here). In North Korea, however, the housing boom is not the result of an "unexpected" asset bubble but rather a deliberate government policy to achieve a "strong and prosperous country (Kangsong Taeguk)" by 2012 — the year the earth is predicted to be destroyed according to the Mayan calendar.
As part of this construction boom, the North Koreans are (re)building a substantial number of housing units on Mansudae Street east of the Potong River Gate and north of the Russian Embassy.  Kim Jong il recently gave an "on-the-spot-guidance" visit there, so using information provided in the coverage of his tour, I was able to map out the areas to be torn down and rebuilt.
First, here is the image from Kim's visit (courtesy of Daylife and Reuters):


(click image to enlarge)
Using this and other information, I was able to map out the construction areas in Google Earth.  Here are some pictures to explain the scale of the work (click images to enlarge):


Construction area


(red=demolish/rebuild; white=preserved)
Previous real estate posts can be read here.
Previous construction posts can be read here.
If you would like to make an effort at improving on my work, you can download my Google Earth overlay here and use it yourself. Some of the buildings in the construction area are specifically identified in North Korea Uncovered.
UPDATE: Here are some pics of the construction site: