Tourism: Koryo Tours issued a newsletter this week promoting their tours to the DPRK during the celebrations of Kim Il-sung's 100th year:

April 15th 2012 marks North Korea's biggest celebration in decades – the 100th birth anniversary of Kim Il Sung, who, despite his death in 1994 is still the country's 'Great Leader' and 'Eternal President'.

This historic day will see epic events and the completion of large-scale national programmes, all furthering what North Korean media calls the creation of a 'strong and prosperous country' – however flexible that concept may be. We invite you to come with us to experience this once in a lifetime occasion on the ground in Pyongyang

At present, the exact nature of the celebrations and corresponding tourist access is shrouded in the usual mystery – no one knows what visitors can see and do, but as always Koryo Tours will be first in line. Birthday travellers should be ready for sudden changes in itinerary and hotels – all part of the excitement of the country's biggest holiday period ever!

We have several tours going on over this holiday, including one brand new one we just added to our website; all of them are open for application now.

In brief they are:

Kim Il Sung Birthday Short Tour
– Ideal for anyone wanting to see North Korea's capital Pyongyang on this massive occasion. We'll see all the city's highlights and be there for the nation's biggest occasion in history.

Kim Il Sung Birthday Long Tour
– In addition to capital sightseeing and anniversary events, this trip goes to the west coast city of Nampo – and for the first time, the surrounding industrial areas which Koryo Tours opened to tourism only this year. Finally, we'll take in ancient city of Kaesong (buy your famous ginseng here) as well as the notorious DMZ, the concrete barrier that has divided
the peninsula for six decades.

Kim Il Sung Birthday Ultimate Tour
– The Big One! If you've ever wanted to (almost) fully explore the world's most mysterious country in one trip, then sign up today. The tour's complete version runs two weeks; those on tight schedules can book for first or second halves alone. Week one (Option A) takes us around Pyongyang, Kaesong and the DMZ, Mt. Myohyang and the giant gift halls to North Korea's leaders, the west coast city of Nampo and much more. Choose week two (Option B), and you'll see the rarely-visited east coast cities of Wonsan and Hamhung, North Korea's second largest city, which Koryo Tours opened to tourists in 2010. From there we'll see the stunning Mt. Kumgang area and the country's most remote area open to travellers.

In its history, Pujon County has only seen one tour group (run by Koryo Tours); if you're looking for a unique area of a unique country, you won't do better than this. Option A is nearly closed so book today; Option B is still open for booking, and ideal for those
who have seen the main sites and want a second trip.

Option A is filling up fast so we do need to ask for early applications for this tour, Option B is still open for booking, and ideal for those who have seen the main sites and want a second trip. There are 15 places left for the Option A or Ultimate Option!

NEW!! – Kim Il Sung Birthday Week Tour
– Due to high demand we have added another week-long tour, so you can take in the country's most fascinating sites and still catch the Big Event.

Check out our amazing programme and sign up now to be on the ground for the biggest birthday party of 2012!

While all tours are still open, we strongly suggest that you book sooner rather than later due to high holiday demand. Tours may need to be closed early, so don't miss out; book now! (early bookings also apply to independent tours)
Winter: Today KCNA published photos of Pyongyang's first winter 2011/12 snowfall :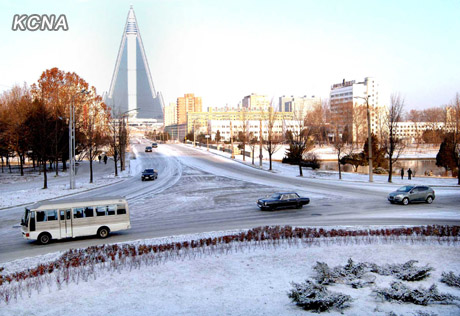 Stamps: Today Joshua Pollack (armscontrolwonk.com) posted some new stamps from the DPRK:
Click images to see larger version from the source. I have an interesting book of North Korean stamps, but have not posted it. Here are some recent DPRK stamps highlighting Chinese/DPRK friendship. Here are some CNC stamps. Here is a stamp issued to raise awareness of bird flu.
Finally, this week's issue of the Pyongyang Times, claims that the DPRK stamps below won the "best stamp award" at the 10th China Annual Best Foreign Stamp Poll on November 24: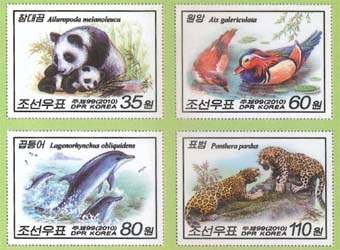 UPDATE 1: A reader sent me a link to some additional DPRK stamps on the North Korean web page, Naenara.  See them here, here, here, and here!
UPDATE 2: Thanks again to the same reader sending this stamp commemorating the sinking of the General Sherman: