Joong Ang Daily
5/3/2007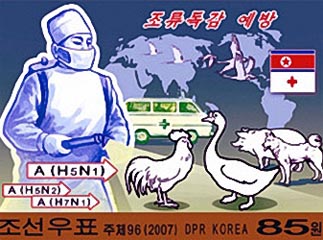 North Korea recently issued a new postage stamp on the prevention of bird flu, Choson Sinbo, a pro-Pyongyang newspaper published in Japan, reported yesterday.
"North Korea's Stamp Company has been creating new stamps with world topics and urgent international issues. Among those is the avian influenza prevention stamp," the newspaper said. "In North Korea, bird flu prevention measures have been conducted continuously as a national project."
The newspaper quoted a North Korea Stamp Company official as saying, "This stamp was created to promote North Korea's health policy and to warn the public about the need to be careful about the disease."
The price of the stamp is 85 North Korean won.
In February 2005, bird flu outbreaks were reported in poultry farms near Pyongyang. Sources close to North Korea's affairs have said more than 210,000 chickens have been slaughtered to contain the disease.