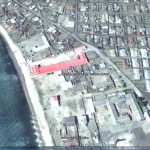 Pictured Above: Love North Korean Children Bakery (Sonbong, DPRK)
According to the Korea Herald:
When Seoul votes on whether to provide free lunches for school kids here on Aug. 24, many of the 50,000 children living in the North Korean city of Sariwon will likely be skipping their midday meal.

That's what they are obliged to do most days, says George Rhee, the South Korean minister trying to raise 500 million won ($466,500) to feed them. Rhee, whose father fled the North during the Korean War, already runs three bakeries in the impoverished country, feeding 10,000 children a day through his charity Love for North Korean Children (LINK).

"I have thought of my family in North Korea so many times," said Rhee, who is now a minister for a South Korean church in London.

"When I got British citizenship in 2002, I visited North Korea for the first time. It was very shocking. There were many children around me begging uncle, uncle give me some food. I am so hungry. I was thinking 'how can I help such poor children?'

"First of all I was thinking of building an orphanage in North Korea but they said that there are no orphans there because Kim Il-sung is the father of all the children. They disagreed with an orphanage but they suggested a bakery."

The traditional steamed wheat flour rolls now made at Rhee's three successful bread factories, located in Pyongyang, Ranjin and Hyangsan, are a perfect product to feed children in a country where even food aid is often suspected to be misappropriated.

"The bread has a very short shelf life compared to baked rolls so they have to be eaten straight away. They cannot be stored and sold on," he said.

"I have been to North Korea many times and I know that the bread in my bakeries is going straight to the children's mouths at lunchtimes. I am very proud of that fact."

On his last trip to the North in June, Rhee visited Sariwon city, around 100 kilometers south of Pyongyang, to view a disused building he wants to turn into his next bread-making project.

The communist country's Korea Education Fund, called a "non-profit non-governmental funding association" by officials there, has asked Rhee to open the bakery in the city of 200,000 people in Hwanghaebuk Province, requesting a facility big enough to feed all 50,000 children living there.

While he cannot foresee producing so much bread in the near future, he does think he could supply materials for a 250 million won project to transform the derelict site. His charity would then raise 250 million won a year to provide flour to make the 5,000 rolls a day, providing a school meal for all children aged four to seven there.

"We are trying to help them develop the food infrastructure in these small communities. They don't have anything to feed their ordinary children. We are trying to help them," said Rhee.

"We can use this 60-year-old building that was used to provide some sweets and milk for children until about 10 years ago, but that work has been stopped now. They are using old buildings for a lot of different purposes, for example they are trying to extract sugar from seaweed they are doing a lot of different things.

"They wanted our ministry to be able to establish a bakery providing their own people with work and help their economy."

As with the other bakeries LINK has already established in the country, the facility would have flour delivered from China and employ around 15 local staff.

International sponsorship manager Dr. Shirley Vander Schaaf said: "In a lot of ways it is very good because they are trying to decentralize the distribution of food, bringing it down to a community level.

"This would be a change from having it administered from Pyongyang. They seem to be putting the ownership and responsibility back into the communities, which makes sense. They are utilizing the funding and their resources from the NGOS to help them do this."

The charity which has been registered in the U.K. since 2003 and in Korea since 2006 already has many regular international donors, but is far short of its 500 million won fundraising target to get Rhee's Sariwon project off the ground and running for one year.

The charity is hoping to hold an 80 km bikeathon from Seoul to the DMZ in October and is asking anyone who is interested in taking part and raising sponsorship to get in touch.

"I think there are a lot of foreigners here who want to do something to help North Korea but don't know what to do. If they come to us with ideas for fund raising we can work with them to get their ideas off the ground," Vander Schaaf said.

She is looking to create a fundraising team to help the charity meet its goal to eventually open a bakery in every province in North Korea, making sure fewer children there will have to go without lunch each day.
Michael Rank wrote a story about the Love North Korean Children Bakery in Rason.  See it here.