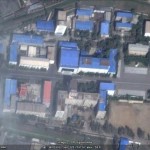 Pictured above (Google Earth): The Mansudae Art Studio in Pyongyang. The blue roofs indicate that most of the buildings have recently been renovated. See the studio in Google Maps here.
According to Yonhap:
Seoul police said Wednesday that they have booked an ethnic Korean woman from China for allegedly smuggling North Korean paintings into South Korea, selling them to local consumers and sending some of the profits to the North.

The 46-year-old woman, surnamed Kim, was accused of bringing in about 1,300 paintings by some well-known North Korean artists in violation of a law regulating the flow of goods between the two Koreas, the Seoul Metropolitan Police Agency said.

Police also booked three others for allegedly helping Kim peddle the smuggled artworks.

Kim is suspected of smuggling in 1,308 artworks, mostly landscape paintings created by North Korean artists, between May last year and July this year, and pocketing 30 million won (US$27,943) after selling 1,139 of them to local galleries and over the Internet, police said.

Police said the North Korean artists include some famous names who were authorized by the Pyongyang regime and affiliated with the communist country's top-notch Mansudae art community widely known to be peddling artwork overseas as a means of earning foreign currency.

Kim is believed to have obtained those paintings through her North Korean husband living in China who uses his membership in an expatriates' support committee in North Korea to secure his supply, police said.

Kim's husband is believed to have clinched the supply of artwork on the condition that he pays $8,000 won annually on top of half the sales proceeds to the art community, according to the police.

"It is the first case ever to confirm that North Korea is selling (artwork) abroad through the committee," a police official said.

Police said that the artwork, smuggled personally or through international mail, was mostly sold to art galleries in Incheon, Daejeon and Gwangju for prices ranging from 30,000 won to 1 million won per unit.

Police said they plan to expand the investigation as more North Korean goods could be smuggled into the country.
The Atlantic also has a good blog post on the whole saga.