Socialist Haircut: Steve Gong has become the first non-North Korean (of whom I am aware) to receive one of the DPRK's tradmark "socialist haircuts":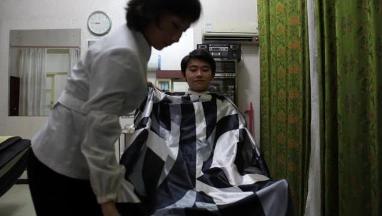 Kim Il-sung Prize: The CNC Instrument Automatic Streamline is the 2011 winner of the prestigious Kim Il-sung prize.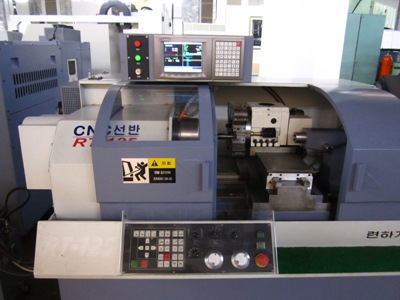 According to KCNA:
Kim Il Sung Prize was awarded to the CNC instrument automatic streamline, according to a decree of the Presidium of the DPRK Supreme People′s Assembly issued Wednesday.

The streamline was newly developed by workers of the Unsan Instrument Factory and technicians of the Ryonha Machine Management Bureau.
Maybe the CNC machine will use the award funds to take the workers out to dinner!
You can learn more about the DPRK's CNC campaign here.
Previous non-human award winners include: Arirang and the "light comedy," Echo of Mountain [sic].
Some Culture: Suhang Pavilion, Jongsong Worker's District (종성로동자구: 42°45'47.78″N, 129°47'40.13″E)
According to KCNA:
Pyongyang, August 3 (KCNA) — Suhang Pavilion which is located in Jongsong workers' district in Onsong County, North Hamgyong Province, DPRK is valuable architectural heritage permeated with the wisdom and patriotism of the Koreans.

The pavilion is the only three-storied wooden building of loft-form in Korea. It was built as the general's terrace of the walled town against foreign invaders in the early days of Ri Dynasty.

It is about 14.8 meters high. It dwindles from down to top to give a safe feeling. It, with hip-saddle roof and single eaves with plain pillar supporting device, has pillars arranged in a peculiar way.

The pavilion was used as frontier guard post at ordinary times and as commanding post of battle in a contingency.

It was called Roechon Pavilion at first. Later it was renamed Suhang Pavilion in the meaning that Koreans beat back foreign invaders and captured their boss to bring him to his knees there in 1608. The present building was rebuilt in the latter part of Ri Dynasty.

Today the pavilion, which was repaired as it was after the liberation of the country, serves as a cultural recreation place of the working people.