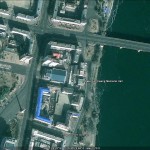 Pictured above: Paek Son Haeng Memorial Hall, Pyongyang (Google Earth)
According to the Daily NK:
North Korea has apparently agreed to accept foreign funding to produce a movie which shows Christians in a positive light. It will be the first movie made in North Korea to show the life story of a Christian.

An activist working in New Zealand for "Team and Team International", a South Korean NGO working on international disaster relief, reported today, "A North Korean movie import-export company (Chosun Movie Company) has decided to produce a movie, 'Paek Sun Haeng', with the support of an organization from New Zealand," and added, "They are at the last stage of working on the scenario and plan to start filming this coming September." A budget production, it will cost a reported $1.5 million.

The activist said that the two sides have agreed to show the movie in movie theaters across the country and on Chosun Central TV. The purpose behind the investment is apparently to depict the positive side of Christianity and Christians to the North Korean people.

He explained, "Based on the idea that the figure, Baek Sun Haeng, has been defined as a good capitalist in North Korea, the organization has been negotiating production of a movie about her with North Korea since 2008." Additionally, he said "They will describe fully the image of Baek as a philanthropist as well as a Christian in the movie."

The scenario was reportedly written by the head of Chosun Movie Company, Choi Hyuk Woo, but there has been conflict over the degree of Christian content.

The source explained, "Problems when the North Koreans tried to change one line or scene have not been small." However, "They were able to persuade the North Korean staff by sticking stubbornly to the fact that it would have been impossible to invest in the movie without Christian content."

North Korea's bad situation vis a vis foreign currency may have influenced the North's decision-making, the source agreed, saying, "I am aware that North Korea's internal capital situation is rather difficult. That economic difficulty may have influenced this contract somewhat."

Chosun Movie Company oversees the export and import of movies under the Culture and Art Department of the Propaganda and Agitation Department, which is within the Central Committee of the Party.

The activist emphasized, "Aid activities for North Korea should give dreams and hope for new things to the North Korean people through diverse cultural approaches beyond food or essential aid."

The movie's main character, Baek Sun Haeng (1848-1933) is a well-known philanthropist in North Korea who has been mentioned in North Korean textbooks, in Kim Il Sung's memoirs and elsewhere.

After her husband died when she was 16 years old, she is said to have accumulated wealth relentlessly. After that, she built both "Baek Sun Bridge" across the Daedong River and a three-story public meeting hall in Pyongyang. She also donated real-estate for Pyongyang Gwangsun School and Changdeok School.

Baek, as the deaconess of a church, also contributed to the education of Korean Christians by donating capital and land for Pyongyang Presbyterian Church School, which was built by Rev. Samuel Austin Moffett, the then-reverend at the First Church of Pyongyang, and Soongsil School, the forerunner to Soongsil University in Seoul, which was established by Dr. W. M. Baird, an American missionary, in Pyongyang on October 10th, 1887.

Additionally, she dedicated all of her property to an organization dedicated to the relief of poverty in 1925, so the Japanese government general tried to present her with a commendation, but she refused it. Therefore, she has been praised highly as a "people's capitalist" in North Korea.

In 2006, the North Korea media reported that an existing monument to Baek had been restored and moved into "Baek Sun Haeng Memorial Hall" in Pyongyang on the instructions of Kim Jong Il.
Read the full story here:
Christian Movie Being Shot inside North Korea
Daily NK
1/17/2011