By Benjamin Katzeff Silberstein
Two of the main news stories on North Korea right now – the rumored execution of Choe Yong-gon and the summer floods that have washed away thousands of hectares of farmland, and thus far killed 21 people (as reported on August 5th) – have something in common. They both show the politically sensitive and dire nature of North Korea's forestry problem.
For decades, North Korea has had a big problem with its trees being cut down at a large scale.
There are two main reasons for this: 1) trees being cleared for farmland, and 2) wood becoming an increasingly important source of energy as other ones have waned. (I recall reading about cutting down trees for hillside farming as an edict from Kim Il-sung, which could explain why it's taken so long for the policy to become openly questioned, but I cannot find the source for this at the moment.)
According to research by the World Resources Institute, forests about 18 times the size of Manhattan have been destroyed in the country for over ten years. Another institute has concluded that forest cover in the country dropped by 17 percent between 1970 and the late 1990s. Presumably it has become even worse since private hillside farming has increased.
The effect of this is visible for anyone who visits North Korea's border either from South Korea or China. While North Korea's hills are barren, the landscape is usually lush and green on the other side.
This is visible on Google Earth as well. Below is a picture showing Ganghwa island on the South Korean side. Its landscape is significantly more green than that in North Korea, north of the light yellow line.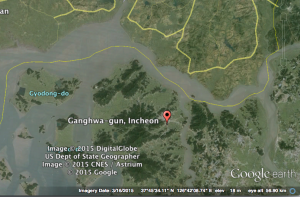 Image credit: Google Earth
As has long been known, this creates immense problems when the summer rains come. Without tree roots to soak  up the water, hills become too heavy and collapse, taking down much of the crops with them. So far, this year's rains do not seem to have had as bad of an impact on the crops as in previous years, but the rainy season still isn't over.
As Curtis has previously pointed out on this blog, this is a classical example of the tragedy of the commons. Since the state owns the forests, people have no direct incentive to treat them in a long-run beneficial way.
This is where the recently reported execution comes in. According to news reports, Choe Yong-gon was executed because he criticized Kim Jong-un's forestry policies. What were these policies, and why was Choe supposedly critical of them?
It was in a speech on February 26th this year that Kim Jong-un outlined new plans for reforestation of the country. In the speech that was later printed in full in Rodong Sinmun, Kim laid out the problem in a relatively frank way (emphasis added):
However, as people have felled trees at randomsince the days of the Arduous March on the plea of obtaining cereals and firewood and, worse still, as no proper measures have been taken to prevent forest fire, the precious forest resources of the country have decreased to a great extent. As the mountains are sparsely wooded, even a slightly heavy rain in the rainy season causes flooding and landslides and rivers dry up in the dry season; this greatly hinders conducting economic construction and improving people's standard of living. Despite this, our officials have confined themselves to reconstructing roads or buildings damaged by flooding, failing to take measures for eliminating the cause of flood damage by planting a large number of trees on the mountains.
I haven't been able to find information on the specific nature of Choe's supposed criticism, but one can make some reasonable inferences. As is often the case with central bureaucracies, not least with that of North Korea, management and command at the central level seems out of touch with the reality on the ground. While forestry management authorities, according to news reports, have said that the tree species required to suit local conditions would take up to three years to produce, they have come under strong pressure to meet the planning goals and time frame stipulated by the central government. This problem is classical to planned economies. North Korea, of course, is by no means an exception.
Maybe Choe had pointed out the obvious: fundamentally, Kim's forestry initiative makes little sense. When Kim says that "Unauthorized felling of trees is tantamount to treachery", it almost sounds like people continuing to cut down trees to cope and muddle through, as has been done for decades, will be punished much harder in the past.
North Korea's forest issues embodies many of its other problems. As long as other sources of energy don't grow drastically, and as long as the leadership doesn't find a way to better manage its food supply, forests will continue to be destroyed. The forestry policy does not seem feasible in practice, and the policy sequencing is problematic to say the least.