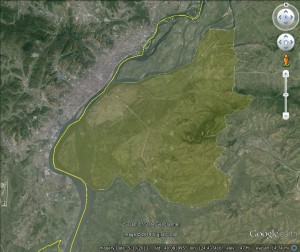 Pictured Above (Google Earth): The approximate borders of the Sinuiju Special Economic Zone.
According to Yonhap:
North Korea has joined hands with a Hong Kong-based company to develop the country's northwestern border city of Sinuiju into a special economic zone, a North Korean official said.

Sinuiju, which borders China's Dandong city, has drawn much attention from foreign investors for its geographical advantage as North Korea's western gateway to China, Ri Chol-sok, the vice chairman of North Korea's economic development committee, said in an interview in the March issue of Kumsugangsan magazine, a North Korean government mouthpiece.

"Now a joint development company has been established for the development of (Sinuiju) and is striving to win back lost opportunities," said the North Korean official.

Hong Kong-based conglomerate Great China International Investment Groups Ltd. reportedly signed the deal with North Korea.

North Korea is also making efforts to lure foreign investment to other special economic zones, including one in the Rason area in the northern tip of the country, according to Ri.

The foreign company already has deep ties with the North, having joined the country's project launched in January to renovate the eastern part of the capital Pyongyang.
The Institute for Far Eastern Studies (IFES) reported the following:
It has been reported that North Korea has established relations with a Hong Kong-based company with the goals of developing Sinuiju, a city bordering China in the northwest region of North Pyongan Province, into a special economic zone (SEZ). Vice Chairman of North Korea's Committee for Economic Development Ri Chol Sok emphasized the nation's efforts to attract foreign investors to the Sinuiju economic zone in an interview in the March issue of 

Kumsugangsan

, a North Korean government magazine.

Vice Chairman Ri specifically mentioned that, in the past, Sinuiju garnered praise and attention from foreign investors due to its geographically advantageous location along the western border. Ri also announced the establishment of the Sinuiju-Great China joint venture development company, which plans to draw further interest and investment from abroad.

It is reported that the Sinuiju-Great China joint venture development company was created alongside a Hong Kong-based finance conglomerate known as Great China International Investment Groups, Ltd. ("Great China Groups"). Great China Groups has recently shown great interest in investing in North Korea and recently began the construction of East Pyongyang Commercial Street this past January.

Recent reports from other foreign media outlets have shown that Great China Groups had intentions to invest in the development of the Sinuiju region for some time, but Vice Chairman Ri's announcement marks the first time that North Korean state media has officially recognized their joint development plans.

Meanwhile, the North Korean foreign publicity website Naenara announced that development of an additional economic development zone (EDZ) in North Pyongan Province along the Amnok (Yalu) River began on January 27 of this year. The Amnok (Yalu) River economic development zone will extend 6.6 square kilometers, with construction taking place in Ryongun-ri and continuing up to the Guri and Ojok Islands, where the North Korean border meets the city of Dandong and the Hu Mountain in China's Liaoning Province.

North Korea plans to draw in tourists visiting China's Hu Mountain to Ojok Island, where an "international services station" will offer food, entertainment, and tourist attractions. There are also plans to develop a modern agricultural sciences research complex on Guri Island that will specialize in flower and vegetable production.

North Korea specifically pushed for this location for the development of the Amnok (Yalu) River economic development zone — which will operate autonomously in Pyongan — due to its border location with China. In addition to its desirable geographical location, convenient transportation between the two nations will likely attract more attention from Chinese foreign investors, giving the Amnok (Yalu) River EDZ a higher chance of success compared to other economic development zones.

Investments reaching upwards of 240 million USD (approx. 260.3 billion KRW) make the Amnok River EDZ the largest in scale among the 13 total development areas.  In terms of actual size, however, the largest economic development zone in North Korea is the Shinpyong tourist development zone (8.1km2), located in North Hwanghae province.

Apart from the EDZs in the North Pyongan region of Sinuiju, the central government has announced their plans to push forward with two other special economic zones. The Hwanggeumpyong and Wihwa Islands SEZ was announced in June 2010, and in November of last year, plans were revealed to develop an additional special economic zone in the Sinuiju region.
All the economic development zones are listed here. Some people say there are 13 of them. Some people say 14 because they consider the Sinuiju Special Economic Zone an economic development zone. I am in the 14 camp. There have also been at least three other zones proposed that did not make the final list. 

The Sinuiju Special Economic Zone was announced on 2013-11-21 (the same day as the other 13 EDZs were announced–though in a different article).
Besides the Sinuiju Special Economic Zone, the only other EDZ to have reportedly made any progress is the  North Hamgyong Provincial Onsong Island Tourist Development Zone.
Read the full story here:
N. Korean, Hong Kong firms to develop border city of Sinuiju
Yonhap
2014-3-12