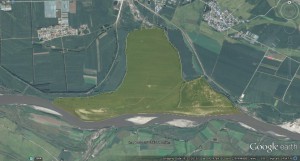 Pictured above (Google Earth): The approximate location for the North Hamgyong Provincial Onsong Island Tourist Development Zone
According to China's Global Times:
A contract has been signed between North Korea and a Chinese border city to develop a special economic zone in North Hamkyung Province, one day after North Korea removed Kim Jong-un's once all-powerful uncle from his post.

North Korea on Monday signed the contract for Onsong Economic Development Zone with Tumen, a Chinese city under the administration of Yanbian Korean Autonomous Prefecture in Northeast China's Jilin Province, South Korea's JoongAng Daily reported Thursday.

On Sunday, North Korea dismissed Jang Song-thaek, widely considered the second-most powerful figure in the country, and expelled him from the Workers' Party of Korea. Jang was accused of "anti-party, counter-revolutionary factional acts" and womanizing.

Considered an economic reformist, Jang led a delegation to China in August last year to discuss the development of two economic zones in Rason City and the Hwanggumpyong and Wihwa islands near the Chinese border.

An official from Tumen said the city government expressed concerns regarding possible postponement of the contract signing due to Jang's ouster, but North Korea requested they sign the contract as scheduled, according to the daily.

"Jang's involvement in economic projects had been diminished significantly this year, so his purge would not have much impact on the speed of economic reform in North Korea," Kim Kyu-chol, head of non-government Forum for Inter-Korean Relations, a Seoul-based group monitoring inter-Korean business relations, told the Global Times on Thursday. "Actually  economic reform will speed up next year as North Korea will focus on the economy next year, the third of Kim Jong-un's rule."

North Korea was in the process of forming the new National Committee for Economic Development earlier this year, which technocrats who had prior experience with the nation's former economic development bureau, will have joined, Kim Kyu-chol said.

North Korea also reached an agreement with China on Sunday over a 380-kilometer high-speed railway to connect Sinuiju, the city across the border from Dandong in Liaoning Province, through to Pyongyang and Kaesong, South Korean Democratic Party lawmaker Hong Ik-pyo told a seminar at the National Assembly.

Pyongyang's insistence on inking the contract sends a signal that its economic ties with China will not be affected by Jang's dismissal and that North Korea wants to strengthen cooperation with China, said Jiang Longfan, a North Korea expert at Yanbian University.

"Kim wants to consolidate his absolute authority through purging Jang, but in the meantime the commitment to economic development has to be maintained to win people's support," Jiang said.

Sinuiju Special Zone located at the estuary of the Yalu River is expected to see the ground-breaking of a major project in February next year, with backing from Hong Kong. North Korea also signed a contract with investors from Singapore, Hong Kong, and the Chinese mainland to invest in the Kangryong Green Development Zone in South Hwanghae Province in mid-November, Tongil News reported on Tuesday.

The Onsong Economic Development Zone is one of the 14 special economic zones North Korea has designated this year to attract foreign investment.

North Korea planned to develop the zone into a tourism resort that includes a golf course, swimming pool, horse racing, and restaurants to attract foreigners, said Jin Hualin, an expert on North Korea economy at Yanbian University.

"But the exact development agenda hasn't been set as Tumen will invite investors to make their decisions," he said.

He is optimistic about the economic prospects for the zone, which, located in mysterious North Korea, will be attractive to foreigners, he said.

Next year, North Korea aims to host 1 million foreign tourists and thus further tourism projects are expected to be announced, Kim Kyu-chol said.

Some 250,000 foreign tourists, more than 90 percent of whom were Chinese, visited North Korea last year, Kim said.
Read the full story here:
N.Korea inks border town economic deal
Global Times
Sun Xiaobo and Park Gayoung
2013-12-13