Recent Google Earth satellite imagery of central Pyongyang shows that three new apartment buildings are going up in the Workers' Party Complex next to the "Red Wall" apartment buildings and  just north of the Organization and Guidance Department:
Pictured above (Google Earth:  39.022592°, 125.742889°): Images of the new housing construction in Central Pyongyang. Image Dates:  2012-6-20, 2012-10-13.
This is the second visible residential renovation in the area following the updating of Residence No. 15 (in 2009-2010):
The buildings surrounding the new construction house KWP VIPs, doctors, secretariat staff, guard command staff, and deputy directors, so it is likely that these new buildings will also house the families of new VIPs.
The buildings are being constructed on a tract of land that previously served as garden plots for nearby residents.
On Yanggak Island (Yanggakdo) we can see the new health complex taking shape where the golf course used to be: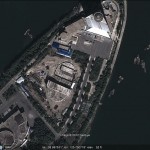 Here is a poster of the completed project which is on display on Yanggak Island: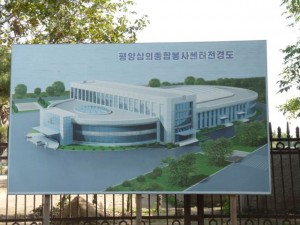 I have previously posted about this here.