Eric T. passes along this amazing satellite photo of the Korean peninsula taken at night on 2012-9-24: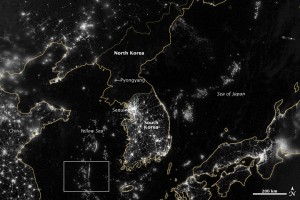 The photo comes from NASA. Click image to see larger version.
When I get some time (maybe this weekend) I will see if I can put names to the lights in North Korea.
Here is the text from the NASA web page:
City lights at night are a fairly reliable indicator of where people live. But this isn't always the case, and the Korean Peninsula shows why. As of July 2012, South Korea's population was estimated at roughly 49 million people, and North Korea's population was estimated at about half that number. But where South Korea is gleaming with city lights, North Korea has hardly any lights at all—just a faint glimmer around Pyongyang.

On September 24, 2012, the Visible Infrared Imaging Radiometer Suite (VIIRS) on the Suomi NPP satellite captured this nighttime view of the Korean Peninsula. This imagery is from the VIIRS "day-night band," which detects light in a range of wavelengths from green to near-infrared and uses filtering techniques to observe signals such as gas flares, auroras, wildfires, city lights, and reflected moonlight.

The wide-area image shows the Korean Peninsula, parts of China and Japan, the Yellow Sea, and the Sea of Japan. The white inset box encloses an area showing ship lights in the Yellow Sea. Many of the ships form a line, as if assembling along a watery border.

Following the 1953 armistice ending the Korean War, per-capita income in South Korea rose to about 17 times the per-capital income level of North Korea, according to the U.S. Central Intelligence Agency. Worldwide, South Korea ranks 12th in electricity production, and 10th in electricity consumption, per 2011 estimates. North Korea ranks 71st in electricity production, and 73rd in electricity consumption, per 2009 estimates.