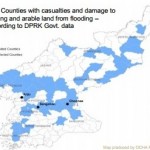 Pictured above: UN World Food Program map of affected areas.
According to the World Food Program web page:
WFP is sending a first batch of emergency food aid to flood-hit areas in the south of Democratic People's Republic of Korea (DPRK) where torrential rains have left 88 people dead and over 60,000 people homeless.

The emergency food assistance will provide the flood victims with an initial ration of 400g of maize per day for 14 days.

Storms and heavy rain across the country between 18 and 29 July have caused widespread flooding, and in some places severe damage to homes, infrastructure and farmland. The most affected counties are Anju City and Songchon in South Pyongan Province, and Chonnae in Kangwon province.

A UN mission recently which recently travelled to flood-affected regions found considerable damage to maize, soybean and rice-fields damage (Read report). WFP continues to monitor the situation.

A comprehensive assessment of the food situation and of prospects for food production is scheduled for September.
The New York Times also reported on this story.
UPDATE 1 (2012-8-6): Vietnam is donating food to the DPRK.
UPDATE 2 (2012-8-7): The Red Cross is distributing aid in the DPRK.
UPDATE 3 (2012-8-8): The UN has created a portal through which all of the UN agencies are posting information. See it here. See here information on "Who is doing what".
UPDATE 4 (2012-8-10): China donates US$1 in assistance to the DPRK.