A reader named Justin pointed out to me a North Korea national team Tackla hockey jersey for sale on ebay: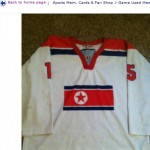 The selling price is US$400, and for those of you who are cynical (like me) the seller "canucks109610" has a great reputation on ebay.
I was curious how the seller managed to come across the jersey so I searched around on the internet and found this story:
Out [sic] latest reader submission comes from international jersey collector and expert Anthony Ferra, who we know from being a fellow board member at the IceJerseys.com forums. He's also personally responsible for several gems in the Third String Goalie collection, as his pursuits of rare and obscure jerseys has led to him having numerous contacts around the globe which sometimes make available to him some really hard to find and wonderful jerseys which don't fit his personal collection, but are too hard to find to pass up.

…

His "Holy Grail" (or is it his "White Whale"?) remains the elusive North Korea Nike jersey. While he has obtained a couple of more recent vintage post-2002 North Korean jerseys from Tackla, the older Nike era style remains elusive no doubt due to the scarcity of the jerseys, the language barrier between him and any players who may have one, and the isolationist policies of the North Korean government, which limit it's few hockey playing citizens from having access to the internet in order to even give Anthony a chance to even contact them.
So if any readers out there have a rare Nike North Korean hockey jersey, or they know how to get one, canucks109610 seems like a motivated buyer!