Rain ruined my plans this Saturday morning, so I thought I would play around on Google Earth. Today's target: the newly completed KPA Exhibition of Arms and Equipment in Pyongyang.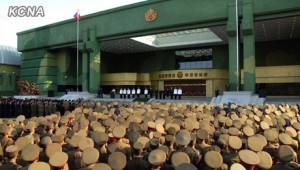 Pictured above (KCNA): Kim Jong-un formally opens the exhibition. Pyongyang Times coverage here and here (PDF).
It is located in Mangyongdae-guyok and is sandwiched between the Kim Il-sung Military University and the Sosan Sports District. The Google Earth imagery of the facility is too old to show the completed structure, but there is enough construction to be positive about the location. Below, I have used Google Earth to draw out more of the facility using North Korean video footage: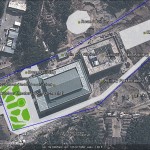 The work I did on the image above is based on video footage of Kim Jong-un's visit.  You can see the video footage here. If there is anyone out there who is trained to identify North Korean military equipment, I would like to know more about what is on display here.
Visitors to the exhibit can peruse all sorts of armored vehicles, airplanes, artillery, and navy equipment. There is space for an open air orchestra and choir to perform. There is also a small train ride that travels around the exhibit giving riders the chance to get a quick glance of the KPA's military machines as they pass by.
The video taken of the facility shows that at least some foreign visitors were welcomed to see the museum.  This begs the question of whether foreign tourists in general will be allowed to inspect the KPA machinery and whether they will be allowed to take pictures of it. Maybe there is even a bar?
According to the Google Earth calculations, the main exhibit hall is 117m x 73m. The second exhibit hall is 77m x 60m.
Previously, this plot of land was occupied by a football field and the remains of the long-defunct Pyongyang Baseball/Softball stadium.